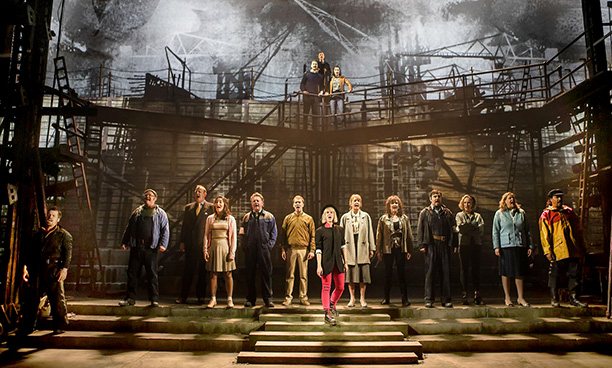 Written by Sting and Lorne Campbell, The Last Ship is a drama with fine songs bound by interwoven narratives. On its recent return to Newcastle, sound designer Sebastian Frost used d&b Soundscape signal processing technology, with En-Scene a sound object positioning and En-Space room emulation.
'I went to hear a [Soundscape] demo at d&b HQ in Backnang about a year ago.' Frost recalls. 'The experience was inspirational because the biggest thing you want from any system is that it doesn't tie you down or restrict you in anyway. What I heard was much more than simple panning or delay of sound; you were not just placing sound objects in specific places. This was a more scientific approach… this was the creation of a soundfield within which the creative possibilities appear unrestricted.'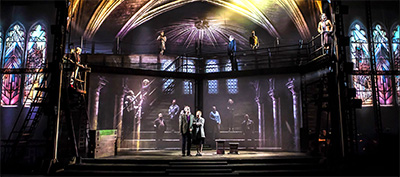 Recognising the specific demands of musical theatre, d&b arranged a further demonstration: 'The Everyman Theatre in Cheltenham is a typical multi-level theatre, whereas Hall 14 was a full 360° environment you could walk around and through. Exciting as that was, having the opportunity to play around, to see if we could combine Soundscape with a more conventional proscenium style deployed system was ideal. What was immediately apparent was that as I went into the theatre it had the same effect I'd heard in Backnang; that effect is that the sound field is opened-up to the entire audience. In that sense hearing is transformational.'
Beyond his own desire to 'open the sound field' to the entire audience, The Last Ship presented Frost with a second strong justification for implementing Soundscape. 'When I sat with the designers, 59 Productions and director Lorne Campbell, there was one aspect of Northern Stage that affected everything. The stage is wide and relatively speaking not so high. What they wanted was a clean line to stage so they could use full height and width to accommodate large-scale scenic video projection. Typically, they would have used a line array system of some sort at this venue, but that was not a realistic option with the video projection being contemplated.'
As well as installation of multiple loudspeakers throughout the auditorium, the technical parameters of Soundscape requires a horizontal array of discrete sound sources across the top of the stage. While these can be line arrays, it's also practical to use point-source loudspeakers, which is where Frost saw the advantage.
As Northern Stage's Production Manager Chris Durant observed at the time: 'Here we have six d&b V10P across the proscenium, each laid horizontal with the horn rotated to present the 110° wide dispersion. Six Y10P are down the room on the delay line, and there are twelve front fills. The Y-Subs are all tucked away up on a bridge above the audience. We would normally struggle here with loudspeaker positions with relationship to lighting positions and sightlines, and in this case, we have scenic projection to consider which only makes that harder. But instead nothing intrudes. At most there are the E6 front fills across the stage, but that's it.'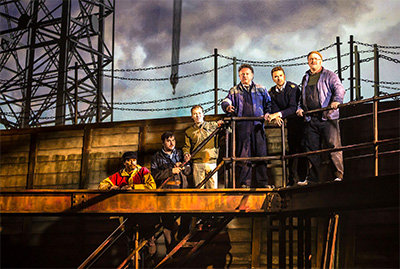 With support from d&b, contracted audio supplier Stage Sound Services took Frost's design concept, made the ArrayCalc assessment of the auditorium and installed the system with Frost's Production Engineer Owen Lewis, assisted by Durant's house team.
'The system went in quickly and easily and sounded good the moment we turned it on.' Frost says. 'Because it sounded good from the off, we were in a good enough place to be able to experiment and play around immediately with the creative elements. Having the freedom to put the band where you want proved highly advantageous, here they were physically positioned off stage left, but for most of the show I have most of the instruments placed around the stage as a whole.'
'This idea that you are within a sound field presents a different listening experience for the audience. Normally if you sit in the front rows close to the front fills what you hear is a simple mono source. Not with this system; relative to where you happen to sit each loudspeaker is delivering something subtly different, but as a listener you are completely unaware, tilt your head to one side or the other and the loudspeakers are completely indiscernible.'
'There are several thousand positioning cues, maybe ten times as many cues than an average musical. Without the 4.2 beta version of QLab, which we got just before the show, managing that would just not have been possible to do. The analogy with lighting holds; I had to say to the actors, 'your positions on stage are really important, we do need you in the same place at the same time.' However, we don't want to straight jacket the actors and once Joe [Sound No.1] had comfortably passed the point where he felt he needed to have his head in the book, he found instead he could keep his attention on the actors and cue to them – so they had some freedom.'
Beyond Frost's use of En-Scene to provide an authentic source orientated listening experience, he used the En-Space function to great effect, most noticeably for an intimate scene between two actors placed within a video projected medieval stone built chapel. Producing that distinctive reverberation, and as an added touch, making it appear to emanate directly from that space on stage as if we the audience were sat distanced from the protagonists at the opposite end of the nave.
'The cast hear themselves as the audience do, it's self-monitoring,' says Joe Green, who programmed cues into the desk. 'They are not subjected to hearing a power-alley come back at them from the room. Everybody gains, audience and cast alike.'
'For set-up, you will spend less time listening and setting the delays; that process of moving around the auditorium trying to blend the transitions between different elements of the system – as you would with a conventional PA for a musical. Instead you will just spend a bit more time at load-in actually getting it set accurately in the positions plotted in ArrayCalc,' says Nick Newman, touring board operator.
'But here the thing is getting it right in ArrayCalc means that when Soundscape is ported into R1 and thence to the system we had to do very little,' Frost adds. ' Normally, with something say like the coupling of the low-mids, you look at one box and it produces a certain result. Look at the whole horizontal array and when you measure you get another result, and then you have to go back and work through them till the system responds as you want. With Soundscape, once it was in that all became straightforward.'
'The audience don't necessarily know what has happened, but everyone comes out the theatre saying the voices are fantastic. To be honest the way it has worked with the show has changed the possibilities of sound design throughout the genre.'
More: www.dbaudio.com