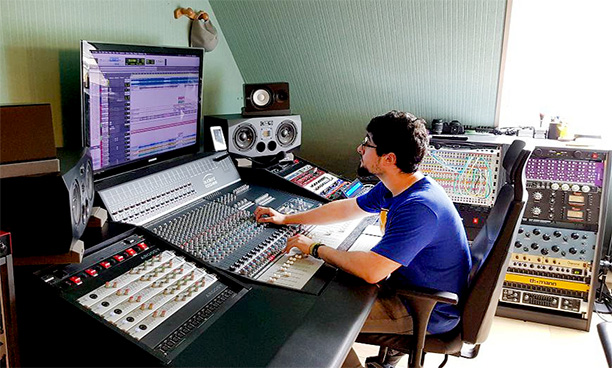 Run by owner and sound engineer Dany Maatouk with his girlfriend Katia Pereira de Almeida, Paris' Jolokia Studio was founded in 2014. Recently, Maatouk installed an Audient ASP4816 hybrid mixing console. Several desks initially considered, but after relatively few weeks of research, Maatouk admits that choosing Audient was 'an easy decision – I'm sure you're the only ones offering such quality at this price.
'It is the only console that offers 16 channel strips with in-line architecture, giving the option to use it as a 40-channel mixing desk,' he continues. 'In addition to all that, there is an amazing bus compressor, some very high-quality preamps and a ton of monitoring possibilities. For me, the only console that answered my every need was the ASP4816.'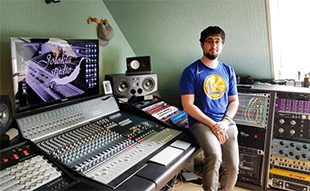 Describing Jolokia Studio as a hybrid studio, full-time sound engineer (and some-time musician) Maatouk prides himself in being able to offer both fully analogue as well as in-the-box mixing, the studio itself boasting a quality range of analogue gear to complement the Audient desk, along with a good number of plug-ins and an Icon Control Surface.
'What I really like to do is to use the best of both worlds. I'll start a mix entirely analogue style out of the box, and then continue it in the box using some crazy effects and automation,' he says.
He enjoys working in the analogue domain, citing the ASP4816's EQ sections as one of his favourite features of the Audient desk. 'They're those kind of parametric EQs where you can boost any frequency of 12dB and it will still sound amazing - very musical and easy to use. Also the monitoring section is very well made and thought out.'
Named after Dany's 'other passion' for red hot chilli peppers (the edible kind, of which jolokia is one of the hottest) Jolokia Studio is on fire right now, with a steady number of local bands coming through the doors. 'We're producing a metal band, a funk band and a pop rock project right now and work worldwide with a number of international artists too.
'It wasn't always easy, but today when we see our work being appreciated by so many artists, and know that we are managing to make a living out of it, we could not be more happy,' he says, explaining the team effort that goes into it all. 'I look after recording, mixing and mastering while Katia manages the studio planning, accounts and often helps with some of the technical stuff.'
'When I finish producing a project with a band or artist, and they come back to do some more - even if they had bigger opportunities. The compliment we get a lot is that the musicians feel great with us in the studio and they can't see themselves recording in another place.'
More: www.audient.com