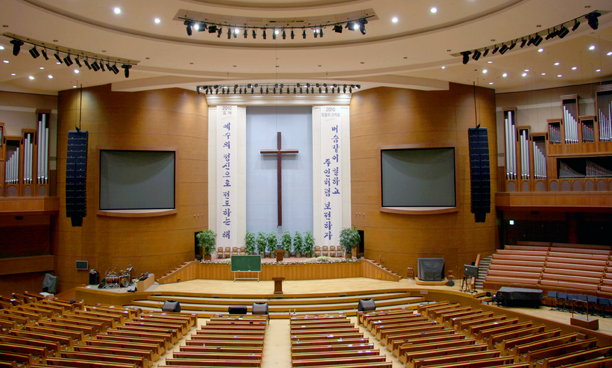 The first Asian church installation of an L-Acoustics K1 WST system has been made by Korea's Yonsei Central Baptish Church.
One of Asia's leading houses of worship, the church also took the first V-Dosc church installation in Asia. Wishing to add delay loudspeakers in its Jerusalem sanctuary, Park Byung Jun (head of the church broadcasting team), Lee Hwan Chul (head of the project team) and Scott Sung (L-Acoustics Product Manager for local distributor Dream Sound), realised that installing a K1 system would give 3dB higher output than the V-Dosc system, removing the need for the dV-Dosc delays completely.
Located in Seoul, the church has more than 120 rooms and is equipped with around 200 L-Acoustics cabinets. The K1 system installed in the main Jerusalem sanctuary serves the 13,000 seat hall and single balcony occupying three floors of the building, with no visible obstructions such as supporting pillars, allowing unobstructed view of services.
'The goal for the new sound design was to cover the audience area without the need for delays or under-balcony systems, guaranteeing a clear view for the audience,' says Cedric Montrezor, L-Acoustics' head of installation support. 'Dream Sound proposed upgrading the existing V-Dosc/ dV-Dosc to a full K1 system and we helped them with the sound design. Thanks to the K1 rigging, we were able to lower the system in order to cover the under-balcony areas with the main system and to maintain an homogenous SPL/frequency response coverage on the balcony.'
The installation comprises two hangs of nine K1 boxes with three Kara WST line source cabinets and four K1-SB subs per side, powered by LA8 amplified controllers. For the back rows of the hall, two hangs of four white 8XTi coaxial speakers from L-Acoustics' Architectural Series have been integrated, blending discreetly into the building's interior. Designed for permanent installation applications, the Architectural Series combines streamlined cabinetry and rigging with a choice of colour options for discreet integration, while providing the same sonic characteristics as other L-Acoustics systems.
More: www.dreamsound.com
More: www.l-acoustics.com