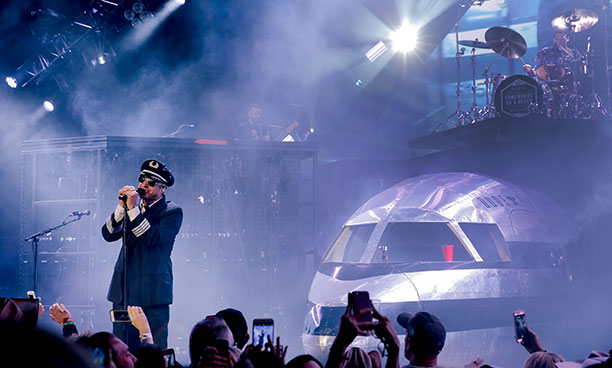 Performing arenas and amphitheatres across North America, country music star Dierks Bentley is using the first digitally linked Meyer Sound Leo Family sound system with a Galileo Galaxy platform and AVB/TSN Ethernet networking.
'I wanted to have more flexibility and distribution options to the stage,' says James 'Pugsley' McDermott, who doubles as FOH mixer and systems engineer. 'With our old set-up we didn't have a one-box, one protocol solution. With Galaxy and AVB, I have all my digital signals on a single fibre-optic line and four channels of analogue backup. But the real selling point for Galaxy was the move up to the 96kHz sampling and high bit-depth processing. The difference in sonic quality and dynamic range is huge.'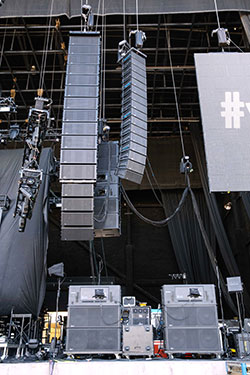 Although the What the Hell World Tour is groundbreaking in using Galaxy's networking, McDermott was confident in the reliability of the new technology. 'I decided to take it out on the road, beat the crap out of it, and see if it keeps working,' he confesses. 'It has. We have not had any issues with the Galaxy processors or the switches. We've never had to go to analogue backup.'
Comprising six Galaxy 816 processors – two at front of house and two each stage left and right – the Galileo Galaxy network platform is at the heart of an extensive Leo Family system supplied by VER Tour Sound of Nashville. For large arena and shed shows the left-right arrays are, per side, 12 Leo loudspeakers over four underhung Lyon loudspeakers, with twin out fill arrays of 16-each Leopard line array loudspeakers. For bass impact, six 1100-LFC low-frequency control units are flown in cardioid configuration per side, with four stacks of three 1100-LFC in cardioid on stage. Four UPQ-1P and four UPA-1P loudspeakers are deployed as front and corner fills.
This is Bentley's second outing accompanied by a Meyer Sound system, as his 2016 Somewhere on a Beach tour was powered by a similar Leo Family rig, also supplied by VER. 'The rig is one of the easiest I've ever used to get up in the air and get going,' says McDermott. 'That really impressed me the first time we used it.'
Also new on this year's tour is the replacement of Lyon loudspeakers for out hangs with the more compact Leopard loudspeakers. 'We needed a smaller hang to accommodate video,' explains McDermott, 'and I was initially concerned about going with a smaller loudspeaker. But when we get them up, locked in and tuned, they really do the job beautifully.'
Working this year's outing alongside McDermott are VER assistant systems engineer Cody Seaver and PA tech Thomas McNabb who doubles as monitor engineer. The entire VER crew played an active role in implementing the AVB network integration.
The tour opened in January in Dayton, Ohio and wraps up in November with a 'one-off' at the Choctaw Casino and Resort in Durant, Oklahoma, where a permanent Meyer Sound Leo Family rig is installed as the house system.
More: www.meyersound.com