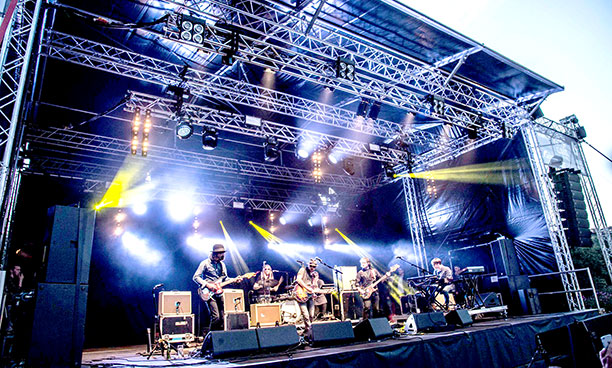 The inaugural Cotton Clouds has given Saddleworth a pioneering boutique music festival. Held at Saddleworth Cricket Club in Oldham in the UK's north, it sold all 3,000 tickets in advance, setting it on the road to a success. Providing full production services, VME looked to its Martin Audio MLA Compact for the main PA.
'Being from the local area, I knew that there would be issues with noise propagation,' says Cotton Clouds Technical Manager and VME sound engineer, Oliver Fallon. 'During my time at VME I have worked with the Martin Audio MLA many times – therefore I knew there was no better system to do the job as it has got us out of some sticky situations in the past.'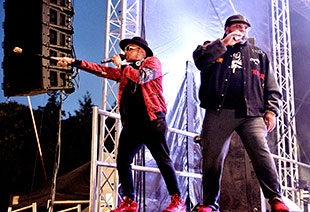 Chris Pearce, FOH engineer for Cotton Clouds, as well as Blossoms and Inspiral Carpets, shared Oliver's concern: 'When planning for this event to take place, I was worried about the residual noise being a problem off-site, due to the area being very residential. The fact that the off-site level were set at 65dB as a result added to my concerns.'
But MLA Compact helped him to achieve this while still achieving full coverage over the cricket pitch with even LF coverage. 'I was hugely impressed with the MLA boxes and am looking forward to using them again and again,' he reports.
Flown left and right of the stage were eight MLA Compact elements, with a further four mounted on the MLX subwoofers, providing front fill. Eleven MLX subwoofers were deployed in an asymmetrical broadside array – nine wide with two reversed to provide cancellation on stage.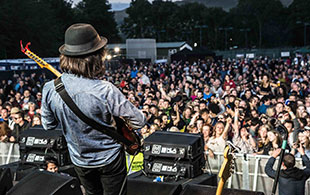 'Given the venue and the limitations of the off-site limit it was essential we got as much height on the MLA Compact as possible,' says Mark Cleator, VME Head of Sound. 'However on-site we were restricted due to the advertising on the PA wings.' But thanks to the ability of the MLA Compact and the Display software, VME were still able to reach 95dB at FOH and hit the rear of the audience area with smooth coverage, while keeping to off-site limits using the hard avoid functions.
Given it was the first year of the festival, the line-up provided a good mix of local upcoming bands such as PINS, The Sundowners and The Blinders to name a few, alongside veterans such as Nick Heywood, The Coral and headline act The Sugarhill Gang.
'We had so many compliments on the sound from both attendees and artists,' says Cotton Clouds Festival Director, Rick Lees. 'Off-site levels were recorded below 65dB, which is incredible considering the volume and clarity on site. We'll certainly be using Martin Audio in the coming years, as we were absolutely blown away.'