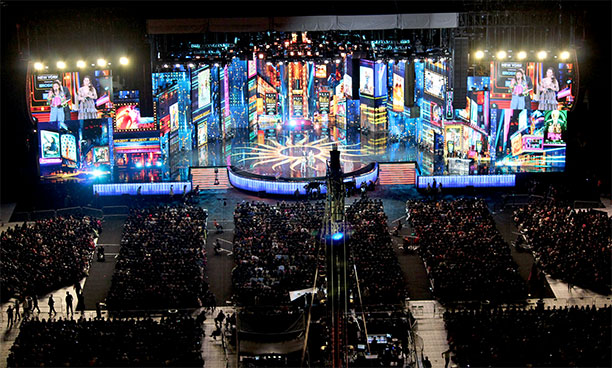 Stadium-filling multimedia and live entertainment extravaganzas, the annual International Indian Film Academy Awards (IIFA) ceremonies move between cities with strong local Indian communities. IIFA 2017 took place at the New Jersey/New York MetLife Stadium, where Firehouse Productions provided audio support with a drive system powered by RedNet Dante-networked audio interfaces from Focusrite.
The event provided an ideal opportunity for a critical test of the network, according to Firehouse's Luis Espinal: 'It proved the point,' he says. 'The connectivity and how everything came up together – it was truly mind-blowing.'
Firehouse provided all sound gear for the stadium and all communications, with Senior Audio Tech Simon Welch and Senior RF/PL Technician Vinny Siniscal heading the team of 12 'Firemen' onsite.
'The most exciting part of the event was the ability to use our newly designed routing and network solution, built of Focusrite RedNet Products,' Espinal reports. 'We had a total of 18 RedNet devices as the drive system, for routing I/O between locations throughout the stadium and for interface with the TV truck. We used RedNet D16R 16-channel AES3 I/O, RedNet A16R 16-channel analogue I/O and RedNet A8R eight-channel analogue I/O units to drive the PA through a large Dante network. We also used Focusrite's RedNet AM2 stereo audio monitoring unit as a Dante listening device, so we could move on with the production part of the show and still follow line checks without the need to be next to guest mixers. The RedNet D64R 64-channel Madi bridge was used to interface through optical Madi, which then was converted to Dante that then fed 64 4-Wire ports for communications.'
Traditional communications links would have required analogue snakes with two twisted-wire pairs and a male and a female XLR per port – and four to five hours of set-up and configuration. 'It was a dream come true when we only had to patch a single Duplex SC MM fibre connection to the truck. Like magic, we had 64 bi-directional ports available immediately.'
That fibre link model was continued all around the stadium. 'All locations were connected through fibre for an easy I/O distribution at any point throughout the venue – remarkable,' Espinal says. 'There was pretty much no wire longer than 100 feet deployed, due to our large star network of RedNet devices.'
That infrastructure helped Firehouse realise the client's vision, even when that vision was a moving target. On the second day of the event, requests for a pair of speakers in a remote location under stage, additional foldback, the creation of an off-stage dance rehearsal area and other last-minute production demands came in rapidly. The RedNet system provided easily-implemented solutions, and by avoiding much of the conventional and expensive connection and hardware infrastructure, and preproduction issues like software and firmware status 'absolutely saved time, money and resources'.
'I've never seen this in my lifetime in broadcast,' Espinal says. There was rain during the setup and rehearsal days [causing the PA and video walls to be taken down] with no recovery issues like he would have expected with an analogue set-up. 'For seven days in a row, outdoors, with 100°F temperatures and a live event, we never had to reboot/restart or give it a break. RedNet surpassed our expectations.'
Though each of the three RedNet-centric racks housing the drive system component had only one fan each, rack temperatures never broke the 100°F mark.
The development of the project was spread across six months – Phase One focused on the network infrastructure, making sure the Cisco enterprise-level 24-port switches would work the way we wanted. The large network solution designed by Espinal and Adam Loesch would carry internet access, intercoms, programme audio and POE cameras (for monitoring temperature, rain penetration and gear indicators), with network functions split between multiple VLANs.
Loesch, Firehouse's Senior Audio Fechnician from its Las Vegas, brought his Dante network experience to the next phase of the project, joining Espinal in drawing up the initial system configuration. The concept was shared with Firehouse owner/CEO Bryan Olson, who Espinal describes as 'very forward-thinking on new technology'.
The system purchase was made, and two weeks later, 18 RedNet boxes were racked and tested. 'This is where Firehouse was going to move if it was good,' Espinal says.
'We have officially moved to this as the only Firehouse drive system configuration,' he says Espinal, adding that 14 more Focusrite RedNet units were subsequently purchased, and, as older systems have been retired, purchase of another 16 RedNet units is planned in a matter of months, 'so we can have three fully networked drive systems between our east and west coast locations.'
'RedNet truly shined on this project,' he concludes. 'We look forward to working with our next generation of Focusrite Rednet-based networked systems.'
More: www.focusrite.com