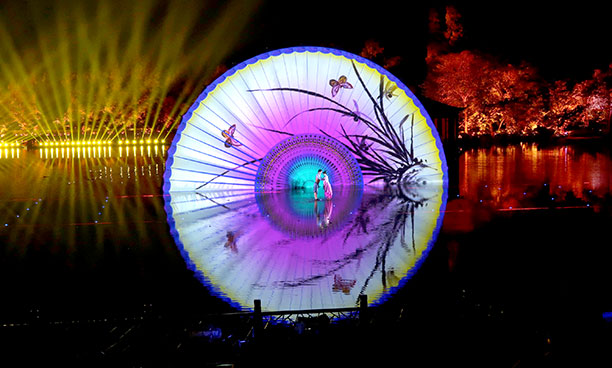 The public debut of Most Memorable Is Hangzhou saw the deployment of a comprehensive Harman Professional Solutions audio system by Impression Wonders Arts Development.
With Hangzhou's famous West Lake in the background, Most Memorable Is Hangzhou was originally devised to welcome visitors to the opening gala of the 2016 G20 Hangzhou Summit. The G20 performance drew international acclaim, and received praise from Chinese President Xi Jinping for its innovative visuals, stage design and stunning musical performances.
Subsequent public interest prompted Impression Wonders Arts Development and director Zhang Yimou created a new version of the spectacle, using enhanced visuals, interactive effects and an updated audio system design by Jin Shaogang, a legend in the Chinese audio industry.
Shaogang selected JBL VTX Series speakers, JBL AE Series speakers and JBL Eon Series speakers to deliver audio that would match the show's visuals. The entire system was powered by Crown I-Tech HD Series amplifiers, and mixed using Soundcraft Vi Series digital mixing consoles and BSS digital audio processors. Hong Kong-based Advanced Communication Equipment International (ACE) – a Harman distributor – provided the audio solutions.
The production presented several unique challenges. The seating capacity for the public performance increased from 1,200 to 2,000 with the addition of 800 retractable seats. Additionally, the seating was distributed sporadically throughout the venue, making it difficult to achieve consistent audio coverage. The audio system was set up on the water in two boats, and also needed to withstand the elements.