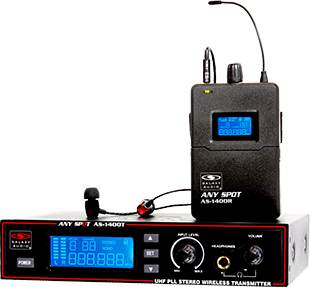 The Galaxy AS-1400 wireless personal monitor promises 'premium performance with trouble-free wireless connectivity' for performing musicians and public speakers in houses of worship, corporate and government facilities and entertainment applications.
The system supports 275 selectable UHF frequencies over a 42MHz range and a 'unique' Mixed Mono mode. Multiple AS-1400 systems can share the same stage, giving each performer their own custom monitor mix. Alternatively, a single transmitter can feed an unlimited number of body packs for an economical, high-performance, wireless monitoring system.
Mixed Mono mode converts stereo operation into a two-channel mono mix using the bodypack's pan control to balance the channels. This allows a performer to hear to balance their own monitoring again a band, listening in both ears using the pan control to balance the mix. The AS-1400 may also be used with a personal monitoring mixer, giving further more control over monitors.
Both transmitter and receiver, feature easy-to-read LCD screens and convenient controls. The AS-1400R bodypack receiver operates for up to seven hours on a pair of alkaline AA batteries. An included single/dual rack kit mounts a single AS-1400T transmitter in a single half-rack space, or two transmitters side-by-side in a single rack space. An optional Band Pack system includes one transmitter and four bodypack receivers, equipping a band or facility with a complete personal monitoring system.
The Galaxy AS-1400 ships with high-quality ear buds and carries a US$499.99 MAP.
More: www.galaxyaudio.com