Audio-Technica has announced the 6000 Series High Density Wireless System, a spectrum-efficient solution that supports 31 channels in 4MHz of bandwidth.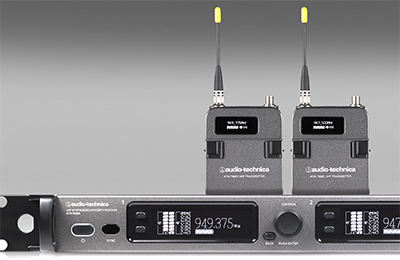 The 6000 Series' channels are spaced at 125kHz intervals and can all be used simultaneously. The system operates in the 944-952MHz band, which is free of broadcast TV. The FCC has expanded license eligibility for this band beyond broadcasters and content creators to include sound companies and venues that routinely operate 50 wireless microphones or more.
The 6000 Series system comprises the ATW-R6200 receiver, the ATW-T6001 body-pack transmitter, an optional ATW-DA410 antenna distribution system, and a number of compatible Audio-Technica lavalier and headworn microphones. Features include high-performance filtering to remove external noise; clear, easy-to-read displays; transmitter frequency setup from receiver via IR sync; network monitor and control; durable, compact body-pack transmitter design; and a highly reliable new miniature input connector.
ATW-R6200:
· Receiving system: true diversity.
· Operating frequency: 946.125-949.875MHz.
· Simultaneous channels: 31 at 125kHz intervals.
· RF sensitivity: 20dBμV (at 60dB S/N ratio).
· THD: <1% (63dBμV input., 1kHz, frequency deviation ±10kHz).
· SN ratio: 110dB or greater.
· Audio output level: XLR balanced +6dBV (line) -13dBV (mic).
· Antenna input jack: BNC type (50Ω) DC 12V OUT (max 60mA x 2).
· Audio output: XLR 3-pin male (balanced)/standard stereo jack (balanced).
· Headphone max power output: 100mW + 100mW into 32Ω .
· Power: AC 120V 60Hz.
· Operating temperature range: 41°F (5°C) to 113°F (45°C).
· Power consumption: 25W.
ATW-T6001:
· Operating frequency: 946.125MHz-949.875MHz (31 channels).
· Frequency step: 125kHz.
· RF power output: 50mW/10mW/2mW.
· Normal deviation: ±5kHz.
· Maximum deviation: ±16.25kHz.
· Frequency response: 70Hz-15kHz.
· Batteries: two 1.5V AA alkaline.
· Battery life approx 6 hours (using two alkaline batteries at 50mW).
· Current consumption: 230mA or less (at 3V DC).