Shure has announced a High Density mode for its Microflex Wireless System (MXW).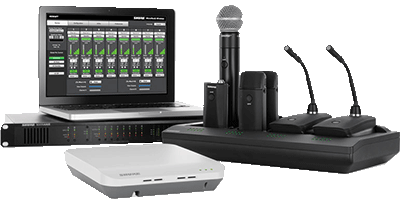 Launched in 2013, the MXW systems' range of wireless microphones and supporting hardware offer managed A/V conferencing for large corporate boardrooms, multi-room environments, and networked campuses. Firmware version 5.x for MXW includes High Density mode, which enables simultaneous use of twice as many microphones.
The update works with new and existing MXW hardware as long as firmware 5.x is installed. In High Density mode the maximum channel count for the US, Canada, Latin America, Mexico, and most of South America will increase from 40 to 80, while Europe, the Middle East and parts of Asia will increase from 80 to 160 channels. To fit twice as many channels into the same amount of spectrum, High Density mode uses a modified transmission scheme that also increases battery life. There is no difference in wireless range.
'To accommodate our customers that need to operate high channel counts, we've doubled the channel capacity without compromising audio quality,' says Product Manager, Josh Siegle. 'In situations where many microphones are required, or where the DECT spectrum is crowded, Microflex Wireless with High Density mode is the conferencing wireless microphone system that provides the highest-performing, most flexible solution.'
More: www.shure.com