Audix has announced the release of its Performance Series, a professional wireless system designed for vocalists, musicians, performers and presenters.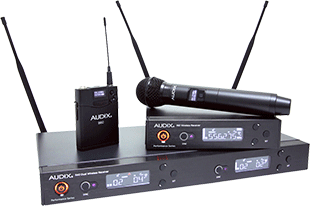 The Audix Performance Series makes it possible to go from set-up to performance in three steps – Scan, Sync, Play,' says Audix VP of Sales Cliff Castle. 'The ease of set-up combined with the feature-rich options of Audix's meticulously engineered wireless system makes it appealing to both the novice and experienced user alike.'
The central component of the system is the easy two-step process of Scan and Sync</. Pressing a hot key on the receiver instantaneously scans for open frequencies. Within 5-20s, depending on the intensity of other wireless frequencies in the area, the system will select an available frequency from a grid of pre-coordinated internal frequencies. Once the frequency is selected, the user holds the transmitter next to the Sync light on the receiver, and within 1-2s, the transmitter will lock to the receiver. If more than one system is required, the user simply repeats the one-touch Scan-and-Sync process.
The Performance Series is available as the 40 Series and 60 Series, both packaged in durable metal housing. The 40 Series is a diversity system with 32MHz of spectrum. It features 33 per cent more frequencies than typical 24MHz systems in the same price/performance range. There are 106 pre-coordinated frequencies available that will take into account the region and number of other systems in use. A total of eight systems (conservatively) can be used simultaneously. Dual-channel systems are also available featuring an internal antenna combiner allowing the system to operate on just one set of common antennas and one power supply.
The 60 Series is a dual channel system with true diversity receivers and 64 MHz of extended spectrum. There are 207 pre-coordinated frequencies available for auto scan and sync purposes. In addition, there are 2,560 individual frequencies available for manual tuning. A total of 16 systems (conservatively) can be used simultaneously. Like the 40 Series, dual channel models are available for the 60 Series.
The Audix Performance Series sets itself apart by offering four dual-channel systems that can be combined to operate on one antenna distribution system (Model ADS48). This means that eight channels of wireless may be operated on one set of antennas and one power supply and take up just five rack spaces.
The Performance Series handheld and bodypack transmitters are both 64MHz in frequency spectrum, meaning that all of the transmitters will work with all of the receivers.
Key features:
· Durable metal housings for receivers and transmitters.
· High contrast LCDs.
· All transmitters work with all of the receivers.
· 300-ft operating range.
· Choice of 10mW or 40mW power settings.
· 21dB of level settings at the receiver and an additional 12dB of gain control at the transmitter.
· AF and RF indicators.
· Soft mute keys with no noise and non-detectable latency.
· Modular, interchangeable capsules for the OM Series and VX5 vocal mics.
· Modular, threaded antennas on the body packs .</li>\r\n<li>AA battery with 10 hours run time (minimum).
'Both professional sound engineers and novice users appreciate the easy-to-operate scan and sync setup modes as well as the performance quality and reliability of the Audix Performance Series,' Castle says. 'We offer features that are simply not available elsewhere at these price points in a professional grade wireless system.'
More: www.audixusa.com