Lectrosonics has added the HMa, a plug-on wireless transmitter to its series of Digital Hybrid Wireless transmitters.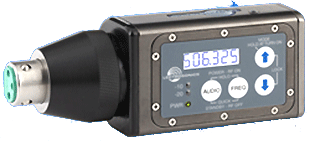 Designed to match any microphone or line-level signal source, the HMa has an input gain range of 44dB, and tuning range of 76MHz in 100kHz or 25kH steps for up to 3,072 frequencies per band. The unit combines 24-bit digital audio with analogue FM transmission, and has a frequency response of 40Hz to 20kHz (±1dB). Phantom power is selectable between 5V, 15V and 48V, or can be turned off for use with dynamic microphones and line-level sources. A USB port allows firmware updates to be made in the field.
The patented Digital Hybrid Wireless process is designed to deliver compandor-free audio and uses an analogue FM carrier to transmit an encoded signal that maintains digital audio integrity, while being spectrum efficient. A cam lock and quick release mechanism makes it simple to securely attach and detach any microphone.
'The HMa is the latest in our long history of making professional plug-on transmitters for a wide range of microphone applications,' says Lectrosonics VP of Sales & Service, Karl Winkler. 'It will be a perfect match for any of our receivers, including the Venue and Venue 2, the SR series, the LR, and the UCR series, and new receivers yet to come.'
The HMa plug-on ransmitter carries an MSRP of US$1,750.
More: www.lectrosonics.com