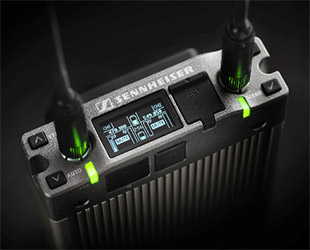 Sennheiser has announced the EK 6042, a two-channel, true-diversity slot-in camera receiver that can be used with both analogue and digital transmitters across a bandwidth of 184MHz.
A partner for Sennheiser's top-of-the-range Digital 9000 series, the EK 6042 operates with all analogue transmitters that feature Sennheiser's HiDyn plus or HDX companders.
'This is a true one-for-all receiver,' says Sennheiser Broadcast & Media Product Manager, Tobias von Allwörden. 'It works with any Sennheiser series from Digital 9000, 5000 and 3000 down to 2000 and evolution wireless G3, and automatically identifies the transmitter via an IR link.'
The camera receiver chooses its own operating mode depending on the transmitter, and also selects the appropriate bandwidth and frequency in the UHF range between 470 and 654MHz. As a true diversity receiver with four separate receiver circuits, the EK 6042 is extra-reliable, even in difficult RF environments. It can be combined with either a 15-pin adaptor to slot directly into Sony cameras, or a 25-pin adaptor for Unislot- and SuperSlot-compatible devices.
For camcorders without an audio receiver slot, a backpanel adaptor for the EK 6042 is available as an accessory. If the camera does not supply power to the receiver, a piggyback power adapter can be attached to this housing and fitted with two hot-swappable BA 61 battery packs.
The EK 6042 camera receiver will become available in Q1, 2016.
More: www.sennheiser.com