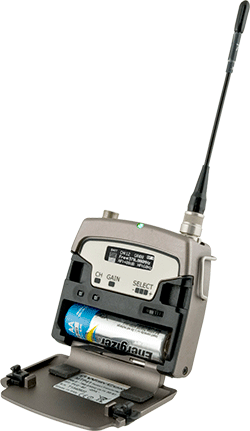 RF specialist Wisycom has announced the MTP41S Pocket Wireless Transmitter – an extremely small and light packge designed for professional wireless microphone applications, including broadcast, film, location sound and live sound.
'The updated MTP41S now incorporates all of the features of its big brother, the MTP40S, in a compact frame,' says Sales & Marketing Director, Massimo Polo. 'These new advancements combined with Wisycom's RF technology offer the customer and talent the smallest, most advanced transmitter on the marketplace today.'
The MTP41S offers up to 232MHz bandwidth in 470/798MHz range, offering a wide range of frequency options. Set-up is easy and fast via an OLED display, a gain/frequency button and a 'joggle' selector. The miniature design of the MTP41S features PCB (no connectors) for extended reliability, and an ultra-light metal alloy body. It also offers user-selectable multi-companding systems: ENR (noise optimised) or ENC (voice optimised). Power options include one AA Alkaline or rechargeable NiMH or Lithium battery.
The most significant addition to the MTP41S is the integrated hardware limiter, which acts as a variable attenuator maintaining a distortion of >0.3%, without compromising audio quality. These features have been added to standardise performance in Wisycom's body-pack transmitter product line.
'The 50mW output power will now offer top-in-class performance in the tough environments of today's RF spectrum,' Polo says. 'Peak audio levels are controlled better with the advancement of the hardware limiter (30dB above peak), while the device transmits a digitally modulated sub-carrier, suitable for tone-squelch operating, remote battery monitoring and optional PTT [push to talk] operation.'
More: www.wisycom.com