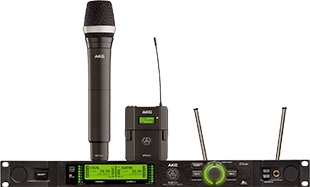 AKG has launched the DMS800 digital wireless microphone system, comprising the DHT800 transmitter, DSR800 stationary receiver and DPT800 wireless body pack transmitter.
The system features two digital audio outputs for Dante and AES EBU, along with improved design and mechanics for the DHT800 handheld transmitter, and interchangeable microphone heads. It offers two balanced XLR and two unbalanced jack connectors, as well as digital wireless audio transmission with low-cut filter, three-band equaliser, dbx compressor and dbx limiter. The DMS800 allows users to choose from a variety of premium dynamic and condenser vocal microphones, including the D5 WL1, D7 WL1 and C5 WL1.
Up to 40 channels are available, which can be used simultaneously. High-end antenna system and multichannel accessories are available to suit the system to individual needs. Built-in Harman HiQnet network remote control and monitoring can be done from a PC via HiQnet Audio Architect software, Apple iPhone/iPad/iPod or Soundcraft Vi Series consoles.
The DMS800 boasts an up to 150MHz ultra-wide frequency range, making it ideal for worldwide touring in frequency-crowded environments. Also, 512-bit encryption ensures security of sensitive audio information.
More: www.akg.com/pro