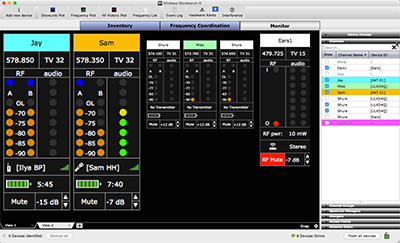 Providing extended control over its networked wireless audio systems, Shure has announced Wireless Workbench 6.11. Now available for download, this includes new features for wireless system management over a network, from pre-show planning to live performance monitoring.
To improve workflow efficiency, Wireless Workbench 6.11 includes inventory batch edits, enabling parameters to be modified for a group of devices or channels at the same time. This offers quick and easy configuration of naming, colour-coding and other parameters for multiple channels. The Coordination Workspace enables frequency calculations for subsets of wireless inventory before deployment. These can be saved and recalled for different locations or specific events within a production. A ranked list of compatible frequencies can be manually assigned to desired channels from this workspace as well. An improved monitoring interface displays all channels with a common channel strip layout. Channel strips can be customised using the Channel Strip Designer and arranged into multiple layouts. Channel strip arrangements can be stored in views and used to monitor a custom group of channels.
'Wireless Workbench 6 has been an absolute game changer since its launch. The importance of set-up calculations and control of wireless systems via software is getting more and more relevant for today´s wireless systems,' says Shure Europe Product Manager for Pro Audio & Retail, Ron Hautzinger. 'The implementation of the enhanced feature sets in 6.11 is a big step forward, and makes workflows more efficient by reducing preparation time and simplifying control of active channels.'
Wireless Workbench 6.11 is compatible with the Shure Axient Wireless Management Network, UHF-R Wireless Systems, ULX-D and QLX-D Digital Wireless Systems, and PSM 1000 Personal Monitoring Systems. Wireless Workbench 6.11 is supported on Windows 7 and 8, as well as Mac OS-X 10.7, 10.8, 10.9 and 10.10.
Download: www.shure.eu/support_download/downloads/software-drivers