Audio-Technica has announced its Engineered Sound Wireless system in response to growing demand for wireless microphone solutions for video and web conferencing. Designed for simple operation by end-users, the ESW DECT addresses challenges of conventional wireless systems such as frequency co-ordination, while a roaming function allows transmitters to connect to multiple receivers for wide-ranging coverage in larger venues.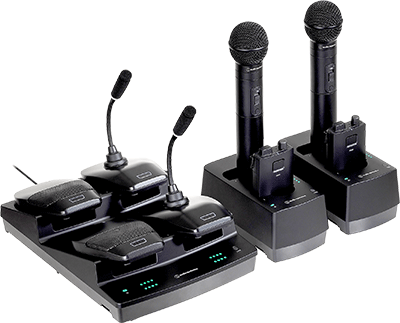 The new system comprises the ESW-R4180DAN 8-channel Dante-enabled receiver and a choice of four transmitters to suit a wide variety of applications – the ESW-T4101 bodypack with built-in microphone, ESW-T4102/C510 handheld, ESW-T4106 boundary mic and ESW-T4107 desk stand. Installation is straightforward, with a PoE power supply for the receiver and Dante audio output capabilities.
Wiring is as simple as connecting a single Cat 5e cable to a PoE-compatible switching hub. This helps streamline the installation process, with no need to worry about having to install multiple antennas. System integrators are able to configure detailed settings to meet a wide variety of end-user needs via Audio-Technica's Wireless Manager software, which is capable of managing multiple wireless systems, including UHF wireless systems, from a single screen. In addition, AES256 encryption support comes as standard, providing superior security.
The choice of transmitters all feature lithium-ion batteries for all-day operation on a single charge – two charging options are available, the ESW-CHG4 two-bay body-pack and handheld charging station and ESW-CHG5 four-bay desk stand and boundary charging station. The charge stations provide full power recharge in as little as two hours and the stations can be linked (up to four CHG4 and two CHG5) with one AC adaptor and Cat5e cable.