Audio-Technica has unveiled its ATW-3255 3000 Series Wireless In-Ear Monitor system, an affordable, durable IEM aimed at all levels of performers and venues.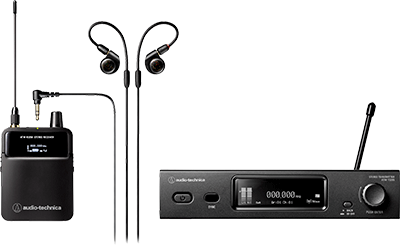 Easy to use and offering dependable RF alongside its sonic performance, the 3000 Series IEM has been modelled after Audio-Technica's popular 3000 Series UHF wireless microphone system, and features the company's ATH-E40 in-ear monitor headphones with proprietary dual-phase push-pull drivers.
The system comprises a rackmount transmitter with front-panel controls and large OLED display, and a body-pack receiver with efficient headphone amplifier. The 3000 Series Wireless IEM offers wideband UHF coverage (138MHz), available in frequency bands DF2 (470–608MHz) and EG2 (580–714MHz), receiver antenna diversity to ensure RF stability and stereo or mono operation with pan/personal mix controls.
Additional features include network monitoring and control via Audio-Technica Wireless Manager software, a cue mode that allows an audio engineer to monitor several IEM channels from a single receiver, and a 3000 Link Mode that enables compatibility with 3000 Series wireless microphone components.
Flexibility in both operation and sound is offered by custom control over EQ, limiting, gain and balance. Additionally, a channel plan can be deployed to all network-connected transmitters via an RF scan from a single receiver, with no interference or third-order intermodulation. The body-pack receivers themselves deliver up to seven hours of operation with powered by NiMH batteries and charged in the ATW-CHG3 or ATW-CHG3N charging station (available separately).
More: www.audio-technica.com