Shure has announced free software networking capabilities for its SLX-D Digital Wireless System, making Wireless Workbench 6 software and ShurePlus Channels iOS app compatible with SLX-D.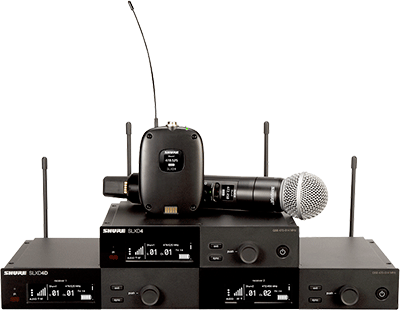 Wireless Workbench 6 simplifies frequency coordination and management of networked wireless devices, including automatic discovery and connection of all Shure devices on a network for remote monitoring and control.
SLX-D, Wireless Workbench 6 can also help to establish network parameters and track all devices used in a production, manage alerts and make adjustments in real-time without interrupting the performance, and implement necessary changes to Shure devices remotely from a computer (naming devices, gain adjustments, IR presets).
ShurePlus Channels App (iOS) gives users optimal control of a wireless system, helping monitor events and make real-time changes using a mobile device. The iOS app can be connected via Wi-Fi or an Ethernet adapter to automatically discover and manage Shure networked devices. Users are able to precisely monitor RF signal strength, audio levels and battery life, from a mobile device for on-the-go performance management. Additionally, users can remotely diagnose and adjust critical channel information,
'SLX-D quickly became a preferred easy-to-use digital wireless system ideal for users in education, houses of worship, corporate facilities and live performance,' says Shure Senior Wireless Category Director, Nick Wood. 'The ability to access stable signals with reliable RF performance, but still provide the scalability needed for different environments, was a huge win for customers. Now, with the addition of these software upgrades, users can instantly improve where and how they are managing performance.'
The SLX-D Digital Wireless System offers 24-bit digital audio, easy set-up, comprehensive system configuration (single and dual channel options available), and a full complement of microphone selections. Transmitters run on standard AA batteries or a lithium-ion rechargeable battery option with a dual-docking charging station.
Wireless Workbench 6 software and ShurePlus Channels iOS app will be available to download foc in Q2 2021.
More: www.shure.com/slx-d