Boss is bringing 'wireless freedom for microphone users' with its WL-30XLR Wireless System – an affordable, high-quality wireless system for XLR dynamic microphones.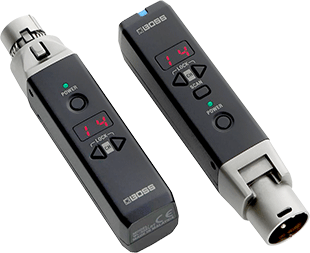 The WL-30XLR promises hassle-free set up, robust performance and long runtime using AA batteries for use by vocalists, speakers, beatboxers to DJs, MCs and video producers among others.
The WL-30XLR system comprises a streamlined transmitter that connects to nearly any standard XLR dynamic mic, and a compact receiver that plugs into an XLR mic input on a mixer, stage amplifier or other audio destination. Lightning-fast processing provides exceptional sound with ultra-low latency, plus strong line-of-sight transmission up to 230ft/70m.
The WL-30XLR's receiver and transmitter each use a single AA alkaline battery, which provides up to 11 hours runtime to cover multiple gigs and rehearsals.
Wireless set up with the WL-30XLR is simple. First, the user presses a button on the receiver to automatically scan 14 channels and find the best one for their environment. Next, they confirm the setting on the transmitter, and they're ready to go.
The Boss WL-30XLR Wireless System is available now at US$299.99.
More: www.boss.info