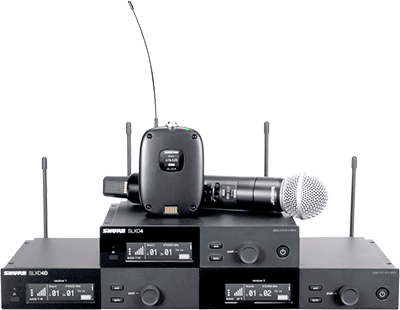 The SLX-D Digital Wireless System is the newest addition to the Shure digital wireless portfolio, representing a digital replacement of the SLX system and coming with a new mechanical design, more reliable RF performance and streamlined set-up.
The SLX-D Digital Wireless System provides greater channel count than the SLX, as well as smart recharging options and improved ease-of-use for classrooms, houses of worship, corporate facilities, and hospitality and local government applications. The system is offered in single- and dual-channel options. Transmitters run on standard AA batteries or an optional lithium-ion rechargeable with a dual-docking charging station.
SLX-D promises high spectral efficiency and dependable RF, and supports use of up to 32 channels per frequency band without risk of dropouts or signal fades. With a wide dynamic range, it can handle a variety of inputs without overload distortion. SLX-D also has Guided Frequency Setup and a Group Scan feature that enables users to set up multiple channels more efficiently by assigning frequencies to all receivers automatically via Ethernet connections. Even for a 30-plus channel system, the Group Scan can be completed within a few seconds.
'As we support customers in education, houses of worship, corporate facilities and theatrs, we recognise the need for an easy-to-use digital wireless system with rock-solid RF performance that can scale as the needs of the venue or spectrum environment change,' says Shure Senior Wireless Category Director, Nick Wood. 'With SLX-D, we can offer a solution that is both state-of-the-art and a great value.'
More: www.shure.com/slx-d