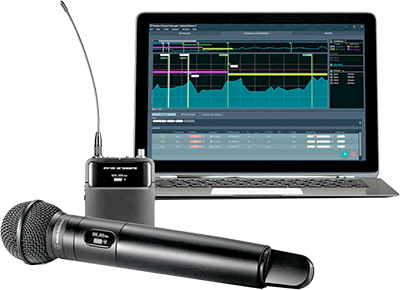 Audio-Technica has released v1.1.1 for its Wireless Manager software, available for immediate download.
Wireless Manager is a macOS/Windows application for remote configuration, control, monitoring, spectrum management and frequency coordination of compatible Audio-Technica wireless devices. Updated features in v1.1.1 include improved usability, layout and control; enhanced scrolling capability; improved visibility of all frequency coordinated devices; updated and expanded channel list reports; upgraded user tools; and minor bug fixes. The software is compatible with Microsoft Windows 8.1, 10; macOS High Sierra (10.13), macOS Mojave (10.14).
A-T Wireless Manager software is compatible with all wireless devices operating in the UHF spectrum. When used with Audio-Technica 5000 Series (3rd Gen) and 3000 Series (4th Gen) with network control and monitoring, the software can coordinate and control all connected systems. The software can also interface with and monitor the latest 3000 Series networked chargers.
A-T's updated Wireless Manager software (v1.1.1) is available for download from Audio-Technica's website. For users with A-T Wireless Manager previously installed, the software will be automatically updated.
More: www.audio-technica.com