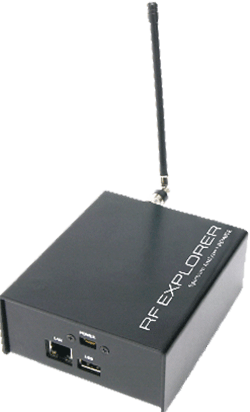 RF Venue has announced the RF Explorer Pro Audio Remote Spectrum Analyzer, a networkable RF spectrum analyser designed to remotely monitor and manage wireless microphone and IEM system operating conditions.
Scanning a range of spectrum across 15-2700MHz, the unit connects to RF Venue's WaveTower suite of software tools via LAN to allow remote site surveys, RF system monitoring, and managed services for professional wireless audio systems. Offline spectrum recording capability allows the Pro Audio Remote to capture spectrum data to USB local storage for later retrieval.
The manufacturer counts among its advantages, elimination of travel and access to any installation from anywhere in the world, management of wireless microphones and IEM inventory and frequency settings in the cloud, and clear identification of optimal white space and avoid active frequencies.
The unit uses maximum and average hold settings capture intermittent sources of interference, and can export CSV scan data for import in popular frequency coordination software such as Shure's Wireless Workbench, Sennheiser's Wireless System Manager and Professional Wireless Systems' IAS.
Key features:
15-2700MHz scan range.
25kHz resolution bandwidth.
BNC Female RF Input.
USB Port.
120dBm sensitivity.
+30dBm max RF input power.
Micro USB Port 5V powering.
CSV Export data compatibility.
More: www.rfvenue.com