Røde Microphones has announced an expansion of its Wireless Go range with the introduction of Wireless Go White, Lavalier Go White, Interview Go and MagClip Go.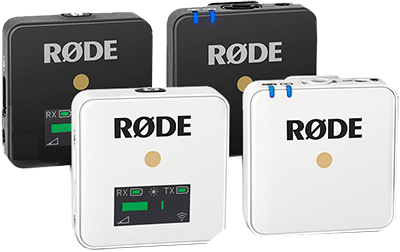 Featuring a transmitter pack with an in-built omnidirectional condenser capsule, Røde reckons Wireless Go to be unique in its clip-and-go versatility. There is also a 3.5mm input for connecting an external microphone like the Røde Lavalier Go for greater flexibility.
The receiver features a dual-purpose mount that snug in a camera cold shoe or clips onto clothing or a camera strap. Audio is sent to the receiver using Røde's Series III 2.4GHz digital wireless transmission, which offers 70m-plus line-of-sight and is designed to excel in locations with dense Wi-Fi and Bluetooth activity. There is also a three-stage pad for tailoring the mic output to a camera or recorder and a bright LED screen for monitoring levels and battery life.
The transmitter and receiver weigh 31g each, for use by vloggers using compact smartphone rigs, filmmakers looking for a discreet wireless audio solution among other applications.
With its compact form factor and sleek black finish, Wireless Go blends with dark clothing and environments, while Wireless Go White is tailored for white clothing and use in lighter environments. For those who prefer using a lavalier microphone with Wireless Go, the Lavalier Go (sold separately) also now comes in white. The Lavalier Go is a professional-grade wearable microphone designed to perform in any broadcast application.
Interview Go is an adaptor that instantly turns Wireless Go transmitter into a lightweight wireless handheld mic for reporting to-camera or interviewing in the field. It features a sturdy attachment for the Wireless Go's cold shoe clip to secure the mic in place, plus a high-density windshield for reducing plosives and protecting the capsule from wind when recording outdoors.
MagClip Go is a magnetic clip that provides for flexibility when placing the Wireless Go transmitter on talent. Optimal placement allows clearest possible recording no matter what kind of clothing the subject is wearing. It can also be used to place the mic discreetly on an object in a scene or on a stage to capture dialogue.
'This expansion of the Wireless Go range is the product of 12 months of listening to user feedback and seeing what creators need and want,' says Røde CEO, Damien Wilson. 'We are always in tune with how our products are being used and who is using them, and we constantly push ourselves to create new products that inspire and encourage creativity. Keep an eye on the Wireless Go range in the coming months, there's more to come…'
More: www.rode.com