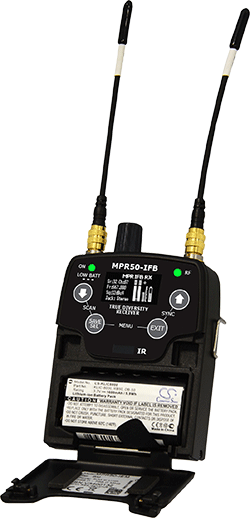 Wisycom has released the MPR50-IFB True-Diversity Receiver.
Designed for IFB (Interruptible Foldback) applications, this compact, belt-pack-style receiver features wideband tuning up to 232MHz, multi-companding processing via Wisycom's proprietary ENR or ENC algorithm and a custom headphone amplifier designed to maximize headroom to a peak of +23dB.
The MPR50-IFB offers a wide frequency range (470-798MHz) for cinematic and television productions around the world. It features dedicated function buttons and an easy-to-read OLED display, along with transmission and receiver sync functionality. It also features automatic receiver programming via the integrated Rx Manager application, micro-USB cables or an optional Wisycom UPKmini Infrared Programming Kit.
'The precise handling afforded by the MPR50-IFB's multi-companding process provides directors and talent crews with an expanded audio signal and separate release/attack,' says Sales & Marketing Director, Massimo Polo. 'Additionally, its software-selectable narrowband FM-IFB modulation enhances noise immunity and coverage zones. Best of all, the MPR-IFB can be used as a listen device from any Wisycom MTP bodypack transmitters make it ideal for any on-location film or reality production.'
To accommodate the needs of staged productions, the MPR50-IFB is available with several disposable and reusable battery configurations, such as two AA NiMH or Alkaline, C3-VS, KLIC 8000 or CR-V3R lithium. It also includes onboard charging via an integrated micro-USB-B connector.
More: www.wisycom.com