Røde Microphones has launched the Wireless Go digital wireless microphone system, claiming it to be 'the world's smallest and most versatile digital wireless mic/receiver combination'.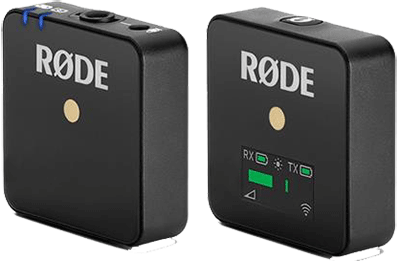 Wireless Go is an ultra-compact clip-n-go digital wireless microphone system for filmmakers, on-camera presenters, newsgatherers, vloggers and other content creators. Measuring 44mm x 45.3mm x 18.5mm and weighing 31g, the Wireless Go transmitter acts as a clip-on wireless microphone or belt-pack transmitter for a lavalier microphone via a 3.5mm TRS input. The receiver measures 44mm x 46.4mm x 18.5mm and weighs 31g for ready mounting on camera gimbals and stabilisers. Its dual-purpose mount sits in a camera's shoe mount, or clips onto a camera strap or item of clothing. The 3.5mm TRS output cable plugs into the camera's audio input or (with the relevant Røde adaptors) GoPro or iPhone. There is also a three-stage output pad (0dB, -6dB, -12dB) to tailor output to camera or recorder.
The Wireless Go's quick clip-on capabilities make it suited to run-and-gun journalists and vloggers in the field.
Key features:
Clip-on mic or belt-pack transmitter for lavalier/headset mic.
Built-in omnidirectional condenser mic.
Series III 2.4GHz digital wireless transmission with 128-bit encryption.
Up to 70m range but optimised for shorter-range operation in congested RF environments.
TX and RX have built-in rechargeable batteries, charged via USB-C.
Up to 7 hours operation on a full charge.
Battery saver mode.
The transmitter and receiver pair in 3s.
Use up to 8 systems in one location.
'The Wireless Go is an incredible marriage of form and function, substance and style,' says Freedman Group CEO Damien Wilson. 'Pristine audio, versatility and build quality, and a price that will reset the marketplace. Video content is a vital part of everyone's business, and the simplicity offered by the Wireless Go's built-in mic means that everyone can produce broadcast-quality audio along with their vision – emerging filmmakers, reporters, real estate agents, you name it.'
More: www.rode.com