Audio-Technica has introduced the ATW-T6002x Handheld Transmitter for its 6000 Series High Density Wireless System – a spectrum-efficient solution that allows users to pack 31 channels in 4MHz of bandwidth.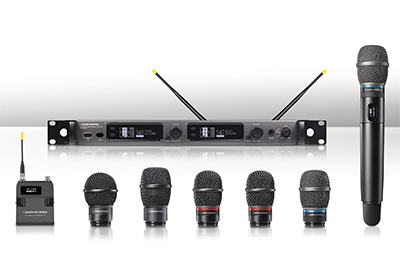 The ATW-T6002x handheld transmitter offers extremely low handling noise and features a metal construction body, high-visibility OLED screen, soft-touch controls and switchable RF power (2mW/10mW/50mW). Its industry-standard thread mount allows for the use of six new interchangeable A-T microphone capsules, as well as other compatible capsules.
The 2016 US FCC Incentive Auction has resulted in a repack of the broadcast spectrum, reducing the amount of spectrum available for wireless microphone operations and driving the need for spectrum-efficient technology to operate a high number of simultaneous channels in today's market. To address this issue, Audio-Technica developed the 6000 Series, whose channels are spaced at 125kHz intervals and can all be used simultaneously. The system operates in the 944-952MHz band, which is free of broadcast TV. The FCC has expanded licence eligibility for this band beyond broadcasters and content creators to include sound companies and venues that routinely operate 50 wireless microphones or more. The 6000 Series system consists of the following components: the ATW-R6200S receiver, the ATW-T6001S body-pack transmitter and new ATW-T6002x handheld transmitter, an optional ATW-DA410 antenna distribution system, and a number of compatible Audio-Technica lavalier and headworn microphones. Key features include high-performance filtering to remove external noise; clear, easy-to-read displays; transmitter frequency setup from receiver via IR sync; network monitor and control; durable, compact body-pack transmitter design with a highly reliable new miniature input connector.
More: www.audio-technica.com