Audio-Technica has released the the third generation of its 5000 Series frequency-agile true diversity UHF wireless systems.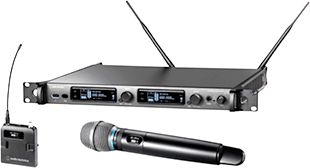 Designed for use by artists, broadcasters and presenters on professional tours, in stadia, concert halls, festivals and houses of worship, the 5000 Series uses the Audio-Technica's dual-compander circuitry to process high and low frequencies separately and True Diversity operation. The receiver has been updated with a tuning bandwidth of 230MHz: 470–700MHz and users now have the option of selecting a standard receiver with two balanced XLR outputs (ATW-R5220) or a receiver that also includes a Dante output (ATW-R5220DAN). The full-rack receiver chassis holds two independent receivers and offers antenna power, frequency scan, IR sync functionality, a ground-lift switch and a front-panel headphone jack.
Other new features include an antenna cascade output that connects up to eight receivers so a single pair of antennas can feed up to 16 channels of wireless (these connectors also provide an RF cable check feature to aid in RF troubleshooting), an auto squelch feature that automatically adjusts the squelch setting to maximise operating range while minimising potential interference, and a backup frequency that can be quickly swapped by pressing the transmitter's multifunction button in the event of unexpected interference. Software enables remote monitoring and control of the wireless system.
Two transmitters are available for use with the 5000 Series – the ATW-T5201 body-pack transmitter and the ATW-T5202 handheld transmitter. Both transmitters feature rugged, ergonomic metal bodies, highly visible dual-mode OLED screens (switchable between standard or performance views to highlight key metering), programmable features, soft-touch controls, and switchable RF power (2mW/10mW/50mW). They are available in two different frequency ranges – DE1 (470–590MHz) and EG1 (580–700MHz) – to provide complete coverage of the receiver's bandwidth. The compact ATW-T5201 is equipped with Audio-Technica's new cH-style screw-down 4-pin connector for secure connection to A-T's cH-style lavalier and headworn microphones, or cables. The ATW-T5202 offers extremely low handling noise and includes a high-pass filter. Its industry-standard thread mount allows for the use of six interchangeable A-T microphone capsules, as well as other compatible capsules. The advanced digital Tone Lock squelch effectively blocks stray RF; the digitally encoded tone also communicates transmitter data for receiver display.
5000 Series components and compatible accessories are offered as individual, à la carte products to give users the greatest possible flexibility in constructing a system that fits their needs.
System components:
ATW-R5220 dual receiver.
ATW-R5220DAN dual receiver with Dante output.
ATW-T5201 body-pack transmitter.
ATW-T5202 handheld transmitter (handle only, capsule sold separately).
ATW-C510 cardioid dynamic microphone capsule (ATM510 equivalent).
ATW-C710 cardioid condenser microphone capsule (ATM710 equivalent).
ATW-C4100 cardioid dynamic microphone capsule (AE4100 equivalent).
ATW-C6100 hypercardioid dynamic microphone capsule (AE6100 equivalent).
ATW-C3300 cardioid condenser microphone capsule (AE3300 equivalent).
ATW-C5400 cardioid condenser microphone capsule (AE5400 equivalent).
More: www.audio-technica.com