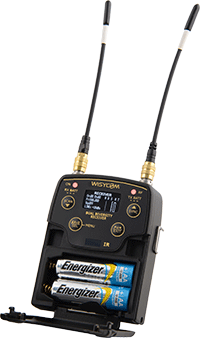 Wisycom has added the MPR52-ENG Dual Diversity Receiver to its range professional ENG products.
The MPR52-ENG has two built-in diversity receivers with both analogue and digital outputs. With up to 790MHz bandwidth in the 470/1260MHz range, the MPR52-ENG features next generation multiband front-end filtering. The software selectable wideband and narrowband DSP-FM operation gives users options based on their project needs. Country specific Surface Acoustic Wave (SAW) filters are also available (US: 935-960MHz/Japan: 1.24-1.26GHz).
The MPR52-ENG features an extreme low noise voltage-controlled oscillator (VCO) with ultra fast spectrum scanning for optimal quick and easy set-up. The automatic scan and transmitter programming works via infrared technology. This receiver is DSP-based for extreme flexibility and multi-companding operations. It is able to be monitored and controlled through USB and Wisycom Manager 2.0 software, which transforms the MPR52-ENG into a quick and low noise portable spectrum scanner.
Matching the MPR30-ENG receiver, the MPR52-ENG features a dual diversity configuration with two whip antennas. This receiver also offers convenient function buttons, including a dedicated frequency scan option. Battery management is flexible, as it features standard battery packs that can be charged with the dedicated charger or through the Micro-B USB connector.
'Today's broadcast industry is ever-changing and we are happy to provide our customers with the latest options on the market,' says Massimo Polo, Sales & Marketing Director, Wisycom.
Wisycom's MPR52-ENG will be available in Q4, 2017.
More: www.wisycom.com