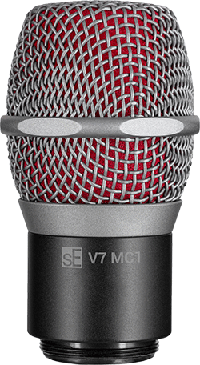 sE Electronics has announced a wireless version of its V7 dynamic mic for use with compatible Shure handheld transmitters, the V7 MC1.
Featuring the same custom-built aluminium voice coil, all-metal construction, proprietary integrated capsule suspension and supercardioid pickup pattern as its wired counterpart, the V7 MC1 is intended to provide the same sound performance, low handling noise and high feedback rejection in an industry-standard wireless format.
'Though the V7 has already been rapidly embraced by a number of incredible vocalists, we always knew a wireless version would be most appealing for many singers,' the company says. 'The V7 MC1 exists for those who are comfortable with their choice in handheld transmitters, but want to improve the fidelity of their on-stage vocals. We feel very confident that the V7 MC1 can take them there – as well as make their FOH engineer's job that much easier.'
The V7 MC1 is now shipping worldwide, with a manufacturer's suggested retail price of US$129/€119. It ships with a red internal windscreen, as well as a spare black internal windscreen if a subtler appearance is desired.