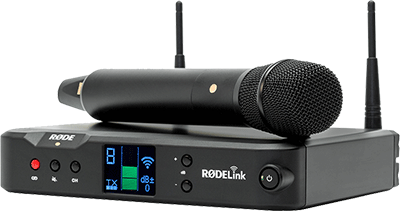 Extending its RødeLink Wireless range, Røde Microphones has announced the Performer Kit for lectures, Q&As, presentations, weddings and live performance.
Joining the Filmmaker and Newsshooter Kits, the Performer Kit features the TX-M2 handheld condenser microphone and RX-Desk desktop receiver. Providing one-touch pairing with the RødeLink receiver, the unit can be powered the new and included Røde LB-1 Lithium-Ion Battery or two AA Batteries.
The RødeLink range works straight out the box, with no channel selection necessary. Using a secure Series II 2.4GHz encrypted digital transmission sent on two channels simultaneously, RødeLink automatically selects the strongest signal and ensures audio as reliable and secure as a cabled connection.
'The Performer Kit is a superb wireless microphone and receiver combination and a welcome addition to the RødeLink family,' says Røde and Freedman Group CEO, Damien Wilson. 'Furthermore, thanks to Røde's investment in injection-mould technology over the past 12 months, every part of the Performer Kit is made right here in Australia.'
The Performer Kit ships with the TX-M2, RX-Desk, LB-1 Lithium-Ion Rechargeable Battery, microphone clip, microphone case and Micro-USB Cable and includes a two-year extended warranty.
More: www.rodelink.com