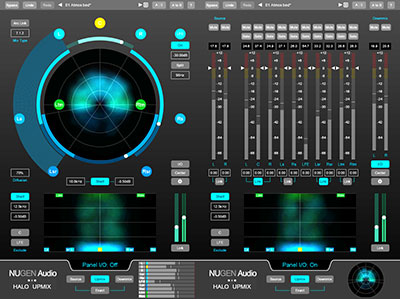 Nugen Audio has announced an update to its Halo Upmix, adding options beyond the existing Dolby Atmos bed track capability.
The 3D Immersive Extension now provides Ambisonic compatible output as an alternative to channel-based output for VR, game and other immersive applications. This makes it possible to upmix, re-purpose or convert channel-based audio for an Ambisonic workflow.
In addition, the Halo 3D Immersive Extension makes Halo the first upmixer to fully support Avid's newly announced Pro Tools v12.8, now with native 7.1.2 stems for Dolby Atmos mixing. The combination of Pro Tools 12.8 and Halo 3D Immersive Extension will provide a more fluid workflow for audio post professionals handling multi-channel and object-based audio formats.
'We are delighted to offer new options for engineers involved in the rapidly developing world of immersive audio and Dolby Atmos,' says Creative Director, Jon Schorah. 'The addition of Ambisonic output in the 3D Immersive Extension enables users to apply our unique algorithms in ever diversifying contexts and workflows.'
Halo Upmix is available immediately at a list price of US$499 for OS-X and Windows, with support for Avid AAX, AudioSuite, VST2, VST3 and AU formats. The new extension replaces the Halo 9.1 Extension, and can be purchased for US$199. Owners of the existing Halo 9.1 Extension can upgrade to the Halo 3D Immersive Extension for no additional cost. Support for native 7.1.2 stems in Avid Pro Tools 12.8 is available on launch.
More: www.nugenaudio.com