Out Board's new TiMax SoundHubVR marks further diversification by UK developers, taking its spatial audio platform into the expanding VR marketplace.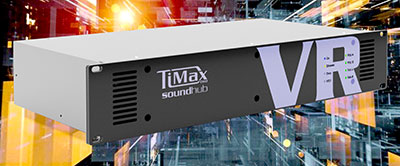 As well as significant growth of its market lead in premium theatre, music and corporate event applications, TiMax has also seen increased sales into museum and exhibit applications worldwide, from expo sites, galleries, and visitor attractions to theme parks, domes, planetaria and experiences.
TiMax SoundHubVR addresses a specific need for mobile, tightly-synchronised, low-latency immersive audio locked to multimedia VR content, in a compact package designed for the latest theme-park ride-car and experience marketplaces. Featuring an optional DC power supply, TiMax SoundHubVR units are currently being built into theme park ride-cars to supply sequenced dynamic spatial audio, for onboard sound systems and gaming seats.
Configured in a compact half-depth, 2U-high rackmount chassis, the integrated TiMax SoundHub VR playback server, spatial processor and showcontrol hub features instantaneous playback of 16 random-access tracks, EQ/delay/zoning DSP, 16 analogue or Dante outputs, 12-24V DC or 90-230V AC PSU options, plus the new TiMax Portal MicroServer multimode showcontrol hub and custom GUI server, for touchscreen control and multi-format links to external show control.
More: www.outboard.co.uk