Merging Technologies/Digigram-developed Audio Network Manager (Aneman), which offers a new and simple method of patching AES67 audio and other applications.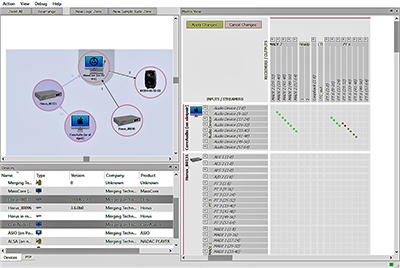 Aneman is built on an open specification initiated by Merging and Digigram in 2014. The first UI is offered by Merging under the name Aneman but other manufacturers are being welcomed to develop UIs that can be specific to their own applications. All that is required is that the manufacturer be compatible with the existing plug-in, or that they write their own. To date, compatible manufacturers include Genelec, Archwave, Digigram and Merging. Aneman will be soon freely downloadable from the Merging Technologies website.
The issue of Audio-over-IP (AoIP) network control and interoperability has been complex and difficult to manage – number of solutions exist, but neither Ravenna nor AES67 require a specific control protocol. However, they need a network management and monitoring tool to enable their capabilities to be exploited. Aneman was developed to address this need, based on the premise that it should not be a closed tool dedicated to a particular ecosystem. Instead, Aneman is designed to be implemented in any device whose manufacturer requires an open, unrestricted AoIP ecosystem.
'Ethernet networked audio – or AoIP – systems are increasingly replacing Madi-based systems because they offer many more channels, far more flexibility and are much more scalable,' says Merging AoIP specialist, Nicolas Sturmel who recently joined the company from Digigram, has been leading the project of the Audio Network Manager. 'We therefore need tools that enable us to harness this potential and manage AoIP networks quickly and easily. Users don't want to worry about IP addresses or complex system setups – they just want to patch audio.'
'Aneman has been designed so that the receiving device can be configured with more or less one click – no network knowledge is required, you don't have to open up any device web pages or configure internal routing of devices. Data is distributed on the network, meaning that Aneman is stateless. It is not a converter or a gateway – once the network has been set up, it could in fact be turned off and everything would still work perfectly. Aneman performs two functions – first, to set up the network quickly and easily, and second, to monitor the network. Multiple Aneman sessions can co-exist on the same network.'
'At the moment we're just at the beginning of the Aneman journey,' he adds. 'The software will be constantly evolving and improving as more manufacturers come on board and as more users embrace the concept and provide feedback. We think it's the defining technology for all networked audio systems for the future. We invite all interested parties to contact us and take an active part in shaping the future of audio networking.'