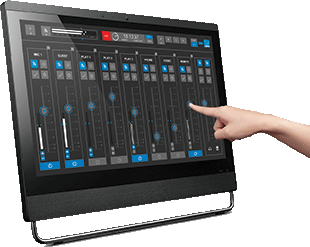 Lawo has announced a new software release for the Rǝlay virtual radio mixer.
Rǝlay is a suite of software that virtualises broadcast studio tools that allows hardware-based studio tools, such as mixing consoles, multichannel soundcards and patchbays to be moved into the virtual domain using COTS computing platforms.
All Rǝlay software is AES67/Ravenna AoIP compliant, and multi-touch optimised for use on touchscreen PCs and laptops. This collection of virtual broadcast tools includes: Rǝlay VRX8 8-fader and VRX4 4-fader Virtual Radio Mixer software; Rǝlay VPB Virtual Patch Bay software; and Rǝlay VSC Virtual Sound Card software.
Version 3.0.0.102 features include support for Unicast streaming, with routines to help maintain Unicast connections and report broken links. Other enhancements decrease the CPU load on the host PC, as well as adding Microsoft-signed network and WDM drivers for broadcasters using Rǝlay on Windows 10 computers.
'PCs get more powerful every day, and broadcasters are using all that power to replace hardware with software,' says Lawo Radio Marketing Specialist, Clark Novak. 'With Rǝlay, they can even replace mixing consoles, using an off-the-shelf touchscreen computer to host a full-featured mixing console that operates just like a physical one – but with less cost and infrastructure requirements.'
Installed on a laptop and paired with a Lawo OnAir 4 audio interface, v VRX makes a grab-and-go mobile broadcast kit, complete with VST-based EQ, dynamics and other processing tools. Nearly 400 broadcasters have downloaded Rǝlay software since the Rǝlay webshop debuted last year.
More: www.rǝlay.com