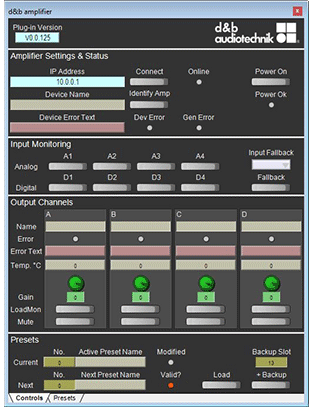 d&b audiotechnik has announced an amplifier plug-in for the Peavey MediaMatrix Nion.
Extending third-party integration, the German company will make its sound reinforcement systems accessible via any MediaMatrix control, and fully interoperable with the MediaMatrix networking approach.
Using the MediaMatrix networked DSP and control system will allow system designers to incorporate d&b systems in installation applications that require detailed, custom remote control features. The system is designed and managed via PC with the MediaMatrix NWare software, and then accessed and controlled wirelessly with any smart device supporting HTML5 via the Kiosk2Go remote control platform. The system can also be controlled using wall panels, touch screen devices and GPIOs.
The new d&b amplifier plug-in for MediaMatrix provides control parameters to adjust the mute status, levels, power On/Off, and alter the AmpPreset. This enables the complete system to be configured as a highly intelligible system for speech reproduction and, via a simple button, reconfigured for full programme material. Critical status information can be monitored, ensuring the same is suitable as a PA-VA system in an emergency situation. MediaMatrix logs all audio connections to amplifiers, and the operating state of connected loudspeakers.
'The key topic here is interoperability, and total integration between the control system, and the sound reinforcement system, whatever the application type,' says d&b audiotechnik Product Manager for Installation, Wolfgang Schulz. 'The system design for many permanent installations now starts with the method for control and management, so d&b is looking to support system designers with complete interoperability with a MediaMatrix system, which guarantees easy planning and operation.'
Amsterdam ArenA has recently become the first large project to incorporate a d&b loudspeaker system with MediaMatrix as the audio distribution and control backbone. The system complies with the strict voice alarm requirements for the stadium, while also fulfilling the expectations of international touring artists and performers.
'Adding d&b to the MediaMatrix plug-in library gives our customers another great option when specifying and designing Nion-based solutions,' adds Peavey Commercial Audio Applications Engineer, Lee Freer, who worked with the d&b team during development and implementation. 'The amplifier plug-in gives the programmer and end-user alike a seamless, reliable and intuitive control interface which can also be easily integrated into an overall MediaMatrix Kiosk and Kiosk2Go GUI.'
The d&b plug-in for MediaMatrix is available now on the d&b and Peavey MediaMatrix websites.