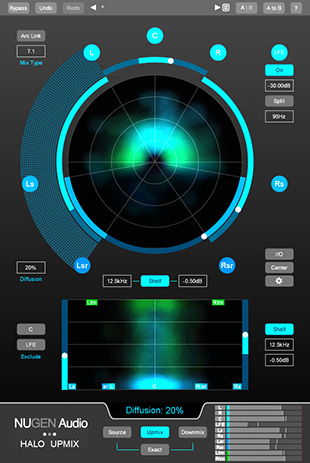 Nugen Audio has announced improvements to its Halo Upmix, the company's industry-leading plug-in for upmixing of stereo audio to surround sound, including multichannel-to-multichannel upmixing, improved versatility and time savings in the production of surround audio.
Available in Avid AAX, VST and AU formats, Halo Upmix automates the creation of a stereo-to-surround, downmix-compatible upmix with centre-channel management and spatial density controls. The process combines several technologies, including frequency and time-domain energy distribution and neural network artificial intelligence, enabling producers to target various upmix goals including full stable surrounds, exact downmix matching, and/or full dialogue isolation.
The latest version of Halo Upmix adds new algorithms for upmixing from multichannel audio (LCR, Quad (4.0), 5.0, 5.1, 7.0 and 7.1) to either 5.1, 7.1, or 9.1 (7.1.2).
Nugen Audio has previously introduced a 9.1 option for Halo Upmix that allows the introduction of a vertical dimension into the upmix, generating a 7.1.2 (Dolby Atmos) bed-track-compatible upmix. The 9.1 option provides greater flexibility for high-quality archival restoration, content repurposing, post-production and sound design.
'We were one of the first companies to introduce a 9.1 upmix option,' says company founder and Creative Director, Jon Schorah. 'Now, with the new multichannel-to-multichannel features, Halo Upmix offers even greater support for audio professionals in surround production and provides the control and flexibility needed for surround upmixing at the highest level.'
The multichannel-to-multichannel upmixing capability will be a free upgrade for existing Halo Upmix customers. Halo is priced at US$499, and the 9.1 extension is US$199.
More: www.nugenaudio.com