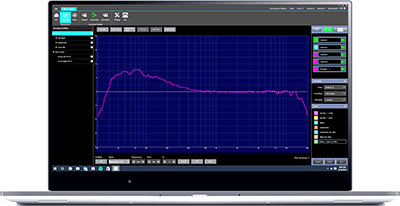 JBL Professional has released HiQnet Performance Manager 2.1 software, bringing new additional for measuring and tuning live sound reinforcement systems.
Performance Manager v2.1 integrates Rational Acoustics' Smaart acoustic testing and measurement software directly into the Performance Manager workflow, providing unprecedented access to measurement information over the network in real time.
'We are pleased to collaborate with Rational Acoustics to integrate industry-leading Smaart technology directly within our software platform, which now includes extremely powerful measurement integration for seamless measuring and tuning operations,' says Harman Professional Solutions Tour Sound Systems Product Manager, George Georgallis. 'With v2.1, real-time frequency and phase response measurements are displayed and controlled within Performance Manager, allowing engineers to measure and adjust system parameters from one screen. This simplifies and accelerates the system optimization process while eliminating opportunities for errors'
Smaart acoustic testing and measurement software is the most widely used software for real-time sound system measurement, optimisation and control. The dual-channel, FFT-based software provides diagnosis and solution of problems by viewing the frequency content of signals and measure the response of electrical and electro-acoustic systems in detail. Smaart can be used to identify tones or frequencies of interest, and to help with feedback suppression and channel equalisation. In this way, Smaart can accelerate and streamline the process of setting up and aligning JBL speaker systems in a performance environment.
'JBL has taken great advantage of the Smaart API to provide an elegant, easy-to-use interface for controlling and viewing Smaart measurement data within the new Performance Manager 2.1,' says Rational Acoustics Director of Technical Services, John Aldrich. 'This integration underscores the shared commitment between both companies of providing comprehensive and powerful software toolkits for today's audio technicians and engineers.'
In addition to Smaart software integration, Performance Manager 2.1 features an entirely new Go-Online mode that offers more intuitive options for system synchronisation and management of online devices. A new Line Array Control Panel makes using the Line Array Calculator, a key tool for system configuration, more intuitive and easier to use. In addition, features have been added to Select Input Source mode to make managing and monitoring AES audio distribution a simpler operation. Finally, a number of bug fixes and key performance enhancements improve on the user experience, speed and ease of use.
Key Performance Manager 2.1 update is:
· Support for new JBL CSX F35 loudspeakers.
· New presets for JBL VTX M Series monitor speakers based on Device File R1.1.
· New Go Online mode offers intuitive options for system synchronization and device management.
· Improved support for JBL VTX F-Series speakers.
· New Line Array Control Panel for easy line array calibration.
· New amplification options.
· New options in Run Show mode.
· New options in Set Inputs mode.
· Performance and memory use optimisations.
· New error reporting tool.
· Significant bug fixes.