The Symetrix AirTools Voice Processor 2x offers DSP processes for on-air voice talent.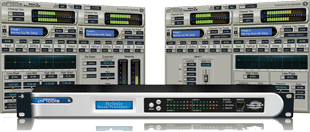 Among the features intended to make the unit attractive to any broadcast studio is the ability to import and export specific presets without disturbing any other settings. 'Station managers can move the entire device file of one AirTools Voice Processor 2x to another unit, but more specific transfers involving individual presets were not yet possible,' says Senior Technical Sales Enginee, Mark Ullrich.
'There may be situations where voice talent moves between studios. With this latest software release, station managers can copy individual presets from one unit and move them to other units without overwriting other device file settings such as dynamic processing or EQ. This adds one more convenience to a device that is already very flexible.'
The most current version of the AirTools Multiband Processor 2m and Voice Processor 2x software can be downloaded at the Symetrix website.
More: www.symetrix.co