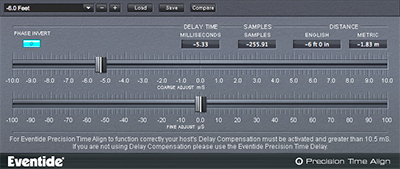 Eventide's Precision Time Align is a high-precision sub-sample delay that can slide a track forward or backwards in time for critical engineering tasks such as combining multiple tracks of a single instrument, compensating for phasing from different microphones, or aligning audio segments for a tracking-only session
Precision Time Align will help to achieve perfectly synchronised double-tracked recordings, eliminating timing anomalies and phase issues from a mix – it is especially effective on multi-miked drums, vocals and instruments. Problems incurred when recording drums, an electric guitar cabinet or vocals with more than one mic are quickly eliminated by Precision Time Align. Phase anomalies like comb filtering and low-frequency attenuation are easily eliminated using Precision Time Align.
Where DAWs allow for time-alignment on a sample level, Precision Time Align is 64x more accurate at sliding tracks forward or backwards in time.
Key features:
· Synchronise signals to microsecond accuracy, up to 1/64th of a sample.
· Phase Invert button fixes mirror-image acoustical phasing.
· Precision Coarse and Fine controls optimise time shift in recordings.
· Perform negative delays, moving the track up in time relative to other tracks in the recording.
· Four different methods for calibrating the signal to achieve perfect signal matching.
· Precision Time Delay also included for use with DAWs lacking delay compensation.
· A fully-functional, 30-day demo is available.
Precision Time Align is part of the Anthology X bundle and also available as part of the Eventide Ensemble subscription package.
More: www.eventideaudio.com