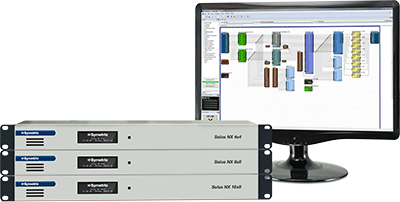 Addressing standalone DSP applications not requiring Dante network audio, Symetrix has added the open-architecture Solus NX series to its DSP lineup.
Solus NX provides the same DSP power and delay memory as Symetrix' Radius, Prism and Edge DSPs, targeting small to large installed sound applications. The system easily handles DSP-intensive processing, routing and delay in complex environments requiring loudspeaker management, automixing, paging, zone mixing, routing and distribution, mic/line processing, AGC and room combining.
The series includes the Solus NX 4x4, 8x8 and 16x8, the models differing only in their number of analogue audio inputs and outputs. All three feature a high-resolution graphic OLED display of system status and metering. A single push-button is used to navigate menus. Onboard GPIO adds another layer of control, flexibility and economy.
Solus NX's integration with Symetrix' Composer CAD based design software enables integrators to use a single programming platform to manage all Symetrix open-architecture DSPs, including Solus NX, Radius, Prism and Edge. Composers' Remote Control Manager provides a central hub for all aspects of control, listing every parameter in the site file, with filtering options that make locating and assigning a parameter quick and easy. Additionally, an embedded server enables metering and diagnostics support, while providing integrators the tools to monitor any Composer-designed system by launching a web browser and entering a specific unit's IP address.
'Our customers demand flexible and intuitive user control options,' says Mark Ryals, Symetrix Director of Marketing. 'We have them covered with the Solus NX Series: the convenience of zero-cost Arc-Web to control volume, mute, source selection and other important parameters of sound systems from smartphone and tablet web browsers; the flexibility and utility of the entire line of low cost ARC wall panels, including the universal mount ARC-3; and support for SymVue, our runtime application for Windows that enables design and testing of GUIs without low-level coding. Last but not least, we offer a stable, human-readable control protocol for programming third-party touch-control systems such as AMX and Crestron.'
'The level of control and DSP processing power that is harnessed in the Solus NX series will serve our customers well. Design and commissioning of robust audio processing along with user control device integration has never been easier or more cost effective,' adds Symetrix founder and CEO, Dane Butcher.
More: www.symetrix.co