AFMG has announced the release of Ease Focus v3 loudspeaker modelling software, following two years of development and extensive beta testing.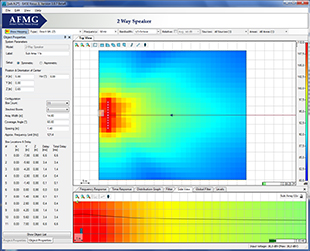 The update brings new features, including the modelling of subwoofer arrays – users can now define and optimise any subwoofer arrangement and automatically compute delays. The complex summation feature allows analysis of the interaction between flown tops and subwoofers on the ground.
Ease Focus 3 maintains look of its predecessor, but makes moving and stacking of loudspeakers much easier with a new snap function; the polar entry feature provides the option to insert venue coordinates directly as read from laser distance meters; and performance improvements throughout the program make it possible to simulate up to 40 sound sources in a single project. Internally, Ease Focus 3 is also prepared for future extension – a communication interface for data transfer to DSP platforms was built in, a plug-in architecture for rigging safety calculations has been set up, and a robust multi-threading calculation engine lays the foundation for managing large-scale projects and FIRmaker optimisations quickly and smoothly.
The new version is free to all users and to most current licensees of Ease Focus 2. Importantly, almost the entire GLL loudspeaker database spanning more than 60 brands will remain fully compatible and accessible.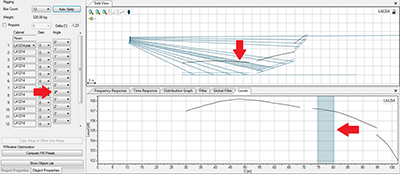 'Ease Focus 3 is an important upgrade for the end-user, just as it is a major milestone on our company's development roadmap,' says AFMG Managing Director, Stefan Feistel. 'And we won't stop here – we have already made detailed plans for the 3.1 update. Thanks to all of our users and to the many supportive loudspeaker companies for driving the software forward.'
In recent years, AFMG has invested time and effort into the implementation of the latest programming platforms and quality control mechanisms. The company states that the now established software engineering process prepares the ground for AFMG's future product development resulting in shorter release cycles, higher reliability and lower maintenance effort, seamless integration and data exchange between AFMG programs, as well as support for different operating systems and languages. In Ease Focus 3, AFMG has first program that implements the new techniques and modules on a broad scale. With this and the next product releases, the company expects these advantages to become visible to its end-users and to benefit them directly in their work.
As Ease Focus 3 is free software for the end-user, the program will be available to everyone with its release on 10 March 2016. AFMG will offer the download of the installer on their web pages. In addition, supporting loudspeaker manufacturers will bundle the program with their loudspeaker data.
More: http://afmg.eu