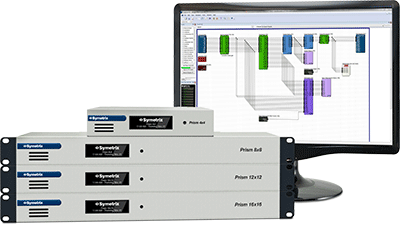 Symetrix has announced the Prism digital signal processing platform, joining its line of Dante-enabled DSPs for cost-efficient, high-powered networked audio processing for a wide range of installed sound applications.
Symetrix Prism is comprises four products, varying only in I/O count and form factor. Prism 4x4 features four inputs and four outputs, power over Ethernet (PoE+), and a compact half-rack format. Prism 8x8 (8-input/8-output), 12x12 (12-input/1- output) and 16x16 (16 input/16-output) use an external power supply along with a 1U-high unit. DSP, analogue audio, and converter technologies are identical in all four products. Prism features the same digital signal processing power, mic preamps and AD/DA converters as Symetrix' Radius and Edge products, while providing expansion via 64 channels of bi-directional Dante networking.
Integrators can customise, connect, and configure Prism using Symetrix Composer, a Windows-based CAD program. Prism can be controlled from Symetrix ARC wall panels, ARC-Web browser-based interface and third-party touchscreens. An embedded web server enables remote audio metering and diagnostics of Prism hardware. Prism features an easy to read OLED display, while Symetrix ARC, Dante and Ethernet ports are standard issue.
'The Prism line-up enables more users to join the Dante ecosystem as it provides a straightforward audio DSP solution that is flexible and cost-effective for all manner of installations – commercial, corporate, house of worship, education, and government,' says Dane Butcher, founder and CEO of Symetrix.
Acknowledging what Butcher describes as 'a dramatic increase' in demand for Dante-based networking over the past couple of years, he goes on to say, 'With Prism and compatible Symetrix I/O expanders and control products, integrators can deliver high performance systems at price points not even imaginable just a few short years ago.
'Drawing on our 40-year history as an audio signal processing innovator, Prism makes our award-winning DSP technology available to an even greater audience,' he concludes. 'With open-architecture flexibility, future expansion capability and top-notch sound quality, we are confident that Prism will be a go-to component in the integrator's toolkit.'
More: www.symetrix.co