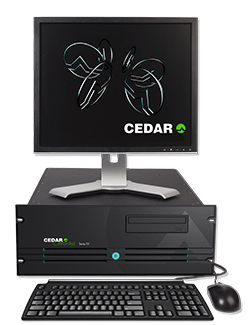 To complement the recent launch of Cedar Cambridge V10, Cedar Audio has announced two new versions of the Cambridge Series IV host systems.
Designed to provide the fastest booting, loading and response, these now include a 256GB solid-state boot drive (SSD) in addition to the conventional 2TB hard disk drive provided for audio storage. As before, two versions are offered – an eight-core system for standard use and an expanded 16-core version for users taking full advantage of the system's server capabilities – and both will be shipped with the latest Windows 10 Pro 64-bit operating system. Furthermore, both are supplied with the new Quiet Pro keyboard that combines quiet operation (which can be a boon when working in high quality audio environments) with three USB ports that allow users to load or stream audio through Cedar Cambridge V10 from USB drives and memory sticks plugged directly into the keyboard.
Cedar Cambridge Series IV host systems running Windows 10 Pro will support Cedar Cambridge V8 and V9 software as well as the current V10 system. Earlier versions are not supported.
The latest Series IV host systems are immediately available. Users should contact a Cedar support agent to arrange for a free software upgrade.
Contact:
This email address is being protected from spambots. You need JavaScript enabled to view it.