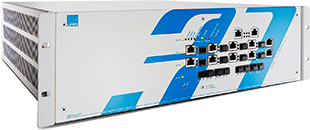 In combination with the Lawo's mc²36 audio mixing consoles and mc² Compact I/O stageboxes, the Nova37 Hybrid Ravenna/Madi Plug&Play Audio Router offers a comprehensive audio package for live performance, installed sound and houses of worship. Its standardised configuration means that it provides easy networking of mc² compact I/Os and mc²36 mixing consoles.
Supporting a maximum of 1,536x1,536 crosspoints, Nova37's plug-and-play set-up is suited to small-sized audio networks – connect mixing consoles and I/O systems via Ravenna/AES67 or Madi, and the audio network is immediately up and running, providing access to all sources. Network user rights are easily managed directly from the console's touchscreen using Lawo's one-touch rights management system. In addition to the standard presets offered by the Nova37, configuration can optionally be customised to a specific installation's requirements. And, as it uses inaudible cooling fans, silent operation means that it can be placed anywhere in a set-up.
With eight Ravenna/AES67 ports (RJ45 or optical via SFP) and eight Madi ports (optical via SFP), providing extensive connectivity, the use of redundant PSUs ensures its reliability in critical applications.
More: www.lawo.com