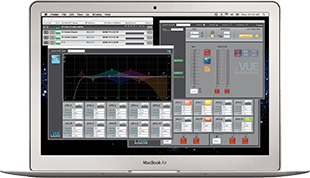 Vue Audiotechnik announced a new version of its SystemVue network monitoring and control software.
SystemVue v3.8.0, software is run on Apple's iPad (subject to Apple's approval), as well as computers running on OS-X and Windows operating systems, with an iPhone version to follow. It works identically regardless of operating system.

The software, allows users to access and control Vue equipment via a wired or wireless TCP/IP-based Ethernet connection, and has a significantly updated interface and new control capabilities. Among these is a user controlled system EQ with ten filters on each input.
As part of this SystemVue release, added functions, while maintaining ease of operation. New functions include input routing options, system level phase reverse and user-controlled EQ. Each system can now access the onboard EQ in the form of ten DSP filters; each of which can be set to shelving, notch, high/low-pass, all-pass or fully parametric bell equaliser. The EQ function is addressable at the individual system level or can be grouped into venue based blocks for control.
Version 3.8.0 also includes full control and monitoring support for all Vue h-Class products, including the new h-5 and h-8 loudspeakers and hs-20 subwoofer, along with the full family of V Series System Engines. The latest release also includes numerous stability and performance improvements, most notably the dramatic speed increase in system firmware updates as well as the ability to select the new Dante input option.
'Having built our systems around state-of-the-art DSP and networking technology, we are able to continue to enhance our products through regular software updates that improve the long term value of our products,' says Ken Berger, Vue Audiotechnik CEO. 'This latest full version of the SystemVue software reflects this and supports the company's commitment to ensuring that once our customers purchase a Vue product, they will always be able to update them with the most current version of our technology.'
More: www.vueaudio.com