dbx has released the goRack Performance Processor, incorporating DriveRack series processing in a unit that fits into the palm of the hand.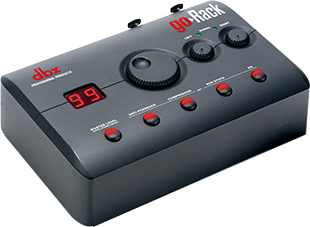 The goRack offers processing including EQ, compression, AFS Automatic Feedback Suppression, Subharmonic Synthesis for enhanced low-frequency response and more. Five buttons offer access to the most commonly used processing effects, and a large data wheel lets users quickly dial in any of the goRack's processing sound-enhancement effects including 20 musical genre-based 31-band graphic EQ settings. The goRack's compressor is based on the design of the original and highly acclaimed dbx 163X. The goRack also includes dual dbx mic preamps, selectable mic/line input settings, and aux input and left/right channel volume controls.
The dbx goRack connects between a mixer and an amplifier via its stereo inputs and outputs, which accommodate both XLR and quarter-inch connectors. It can also be used as a stand-alone performance processor/mixer for a solo artist.
'The goRack boils all the essentials of our DriveRack processors into an affordable product that is incredibly simple to use,' says Jason Kunz, Market Manager for Portable PA and Recording & Broadcast. 'With the introduction of goRack, bands and musicians everywhere can now easily and significantly improve the sound of their PA.'
The dbx goRack Performance Processor will be available in Q2 2015 at a suggested street price of US$99.95.
More: www.dbxpro.com