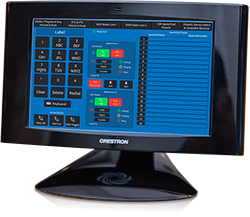 Symetrix has announced a new series of Crestron-certified SymNet control modules for use with the automation solutions provider's 2-Series and 3-Series controllers.
While the Crestron 2-Series comprises products for commercial and home control applications, the 3-Series provides an integrated building management platform, allowing different technologies to operate as a single, intelligent system.
Part of a newly enhanced and expanded series, the latest SymNet control modules available for use with these two product ranges comprise: Volume Up/Down Control Module with user limits; Fader Set Control Module; Button Push Module; Preset Execution Module; Controller Receiver Module; Input/Output Selector Module; VoIP Dialler Module and ATI Dialler Module; and Speed Dial, Speed Dial Store, Delete Phone Number and Name Module.
The latest Crestron modules are compatible with SymNet Composer hardware such as SymNet Edge, Radius 12x8 EX, Radius AEC, xControl and the SymNet 2 Line Telephone Interface Card.
A command processor architecture that maximises efficiency and responsiveness is one of the primary strengths of the latest Crestron modules: 'The command processor is responsible for all the data parsing to and from the SymNet DSP, which makes it more efficient for the individual control modules to operate,' explains Senior Product Manager, Trent Wagner. 'When the control IDs match a particular control module then the controller information is used and updated.'
Alongside this functionality, that the control modules make it easy to achieve 'fast and efficient implementation'. Multiple faders or button controls do not significantly slow down the system, while the modules also make it easier for integrators to get a Crestron and SymNet-based design up-and-running.
More: www.symetrix.co