The range of Cedar Audio tools presently used by national police forces, security agencies, counter-terrorism units, drug enforcement agencies and many other legal and security professionals are now avaiable as The Forensic Audio Starter System.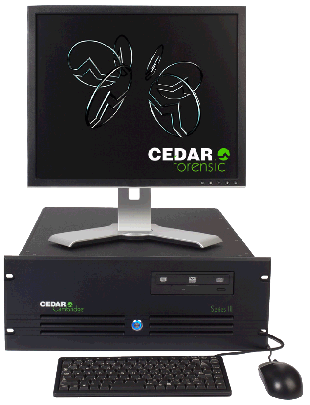 Configured by a forensic audio specialist with more than 25 years' experience in the field, the forensic audio starter system includes the Cedar Audio NR-4 broadband noise reduction system, together with the company's precision EQ, 0.2Hz resolution spectrum analyser, a high-quality limiter and the full range of core tools. All are accompanied by an ongoing free update policy.
The processes are powered by the latest Cedar Cambridge Series III system – a powerful eight-core server-grade PC offering 64-bit processing and almost 10,000 hours of audio storage, all pre-configured in a 4U-high rackmount host. This is supplied complete with multichannel I/O, a large LCD monitor and all the software and drivers installed and tested before delivery.
Every forensic audio starter system is backed by a free telephone hotline support, and a free day's training for up to four people is also provide in Cedar's new training facility in Cambridge, UK. Each system is also supported by two months' free use of every existing Cedar Cambridge processing module – not cut-down versions with limited options or no ability to save work, they are the real thing.
More: www.cedaraudio.com