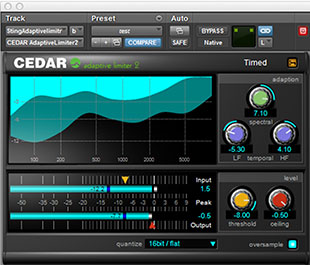 Cedar has announced 64-bit Pro Tools 11 compatibility for its Studio AAX, maintaining its compatibility with the latest developments from Avid.
Initially released in RTAS and AudioSuite formats, Cedar Studio AAX for Pro Tools 10 was launched at the NAB2013 Convention in April 2013. In, we are now pleased to announce that Cedar Studio AAX has been written as a 64-bit application compatible with Pro Tools 10 and the latest versions of Pro Tools 11.
Key features:
· Host systems: Mac OS-X 10.7 onward; Windows 7
· Host software: Pro Tools 11
· Format: AAX Native
· Adaptive Limiter, Debuzz, Declip, DNS One, DNS CS
Cedar Studio AAX comprises four advanced processes that address a wide range of problems and significantly improve the sound quality of your audio. Each Cedar process has been selected from Cedar Cambridge.
The DNS process is standard for dialogue noise suppression for film and TV, on soundstages, on location, in newsrooms and for sporting events. Declip reconstructs an original signal, improving clarity, reducing or eliminating distortion, and restoring the original dynamic range of damaged audio. The Adaptive Limiter calculates a continuously varying EQ profile that constrains the peak level of the output while retaining the integrity of the input. Debuzz restores audio without side effects such as limited bandwidth or comb filter artifacts.
Cedar Studio AAX 64-bit is immediately available. There is no cost or time limit for upgrading. All owners of Cedar Studio and Cedar Studio AAX are entitled to upgrade to the new version without charge. Contact This email address is being protected from spambots. You need JavaScript enabled to view it. with dongle serial number.
More:
www.cedaraudio.com